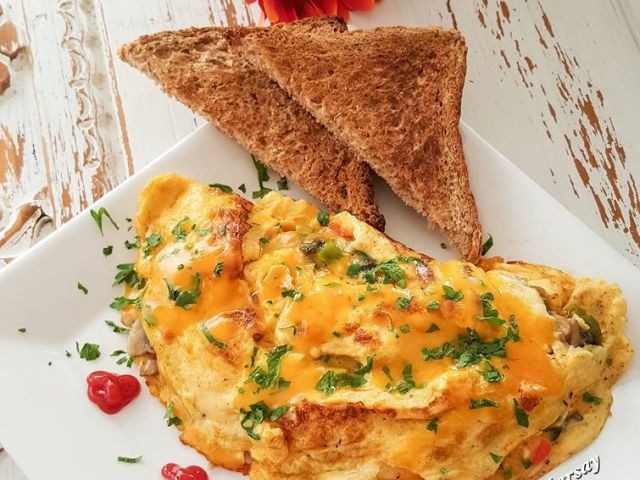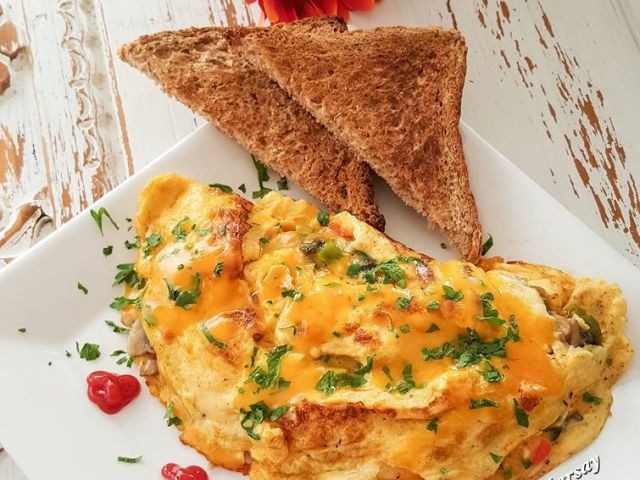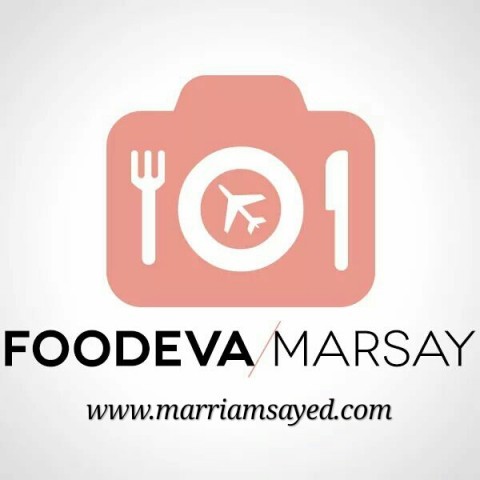 ---
Aspiring to Inspire for the pleasure of my Creator above. Have a peek,(and follow), at my Foodeva Marsay Blog on link :-)

www.marriamsayed.com

F...
Joined 8 years ago
Foodeva Marsay (marriam S)'s profile
CREDITS
#Breakfast #Idea #simple #omelette #Recipe
Author : Foodeva Marsay
INGREDIENTS
2 Extra Large Eggs2 Mushrooms sliced (button mushroom variety)2 Tablespoons Chopped Bell Peppers (any colour)4 Tablespoon Grated Cheddar Cheese3 Tablespoon Milk¼ teaspoon Baking Powder (dissolved in 1 Tablespoon Water OR Milk)ButterSaltPepper
METHOD
🍳 Crack the eggs into a bowl, add the salt and pepper to season🍳 Add the Milk to this and whisk well.🍳 Stir fry the chopped vegetables in a teaspoon or two of Butter and keep aside.🍳 Now Add the dissolved baking powder to the whisked eggs, and stir in well.🍳 To a seperate Pan (medium sized non-stick frying pan), melt 1 Tablespoon Butter on medium/low heat, and add the whisked eggs.🍳Cover the Frying pan with a Lid, allow the eggs to start cooking.🍳 Remove Lid after 1 minute, or as the eggs begin to "Puff Up", now gently use a spoon to pull the eggs away from the sides of the pan and gently push any "runny egg mixture" to the edge allowing for those to cook as well.🍳 Top one side of the cooked eggs with the stir fried vegetables.🍳 Sprinkle on About 3 Tablespoons cheese and gently fold over, using a flat spoon/spatula, the other end of the eggs, so that it Encloses the fillings.🍳 Switch off the heat, sprinkle on the rest of the Cheese, and cover the pan with the lid until cheese melts.🍳 Best Enjoyed HOT, with a sprinkle of Fresh chopped Parsley.
Comments ordered by Newest
---