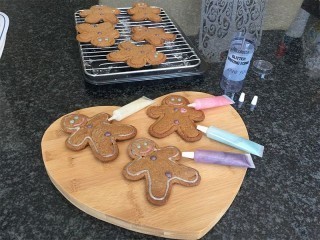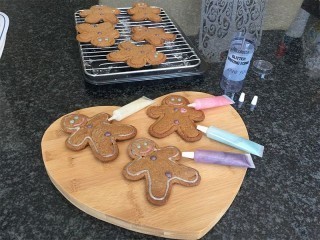 8
favs
2
coms
2.1K
views
Lets Make Ginger Bread Men!
By Raeesah
- SOUS CHEF
INGREDIENTS
Gingerbread men

350g cake flour, plus extra for rolling

1 teaspoon bicarbonate of soda

2 teaspoon ground ginger (I used fresh ginger)

1 teaspoon ground cinnamon

125g butter

175g light brown soft sugar

1 free-range egg

4 tablespoon. golden syrup

Writing icing

Cake decorations

METHOD
Sift together flour, bicarbonate of soda, ginger and cinnamon, and pour into the bowl of a food processor. Add the butter and blend until the mixture has the appearance of breadcrumbs. Stir in the sugar.

Beat the egg and syrup together lightly, add to the flour mixture and pulse until the dough clumps together. Tip out, knead briefly until smooth, wrap in Clingfilm and chill in the fridge for 15 minutes.

Preheat the oven to 180 ̊C.

Sprinkle two baking trays with flour or line with baking paper.

Roll out the dough on a well floured surface (this is very important to ensure dough does stick to surface when transferring them.) until its 5mm thick.

Cut into shapes using a gingerbread men cutter or cut into any shape you like.

Place them onto the trays leaving spaces in between in case they spread.

Bake for 12-15 minutes.

Allow to cool completely before decorating

Store in a tin lined with baking paper for longer lasting freshness.

INFO & TIPS
In the August issue of Good Housekeeping magazine I came across this Gingerbread men recipe and thought it would be a fun activity to make and decorate as a part of family bake day with kids or if you don't have kids a fun way to bond with your spouse in the kitchen.
Comments
Ordered By Newest
---
---
Suggest Recipes
You May Like
Lets Make Ginger Bread Men! is part of the
Biscuits & Pastries
recipes category
TAGS
bread
ginger
halaal
lets
make
men
raeesah
recipe