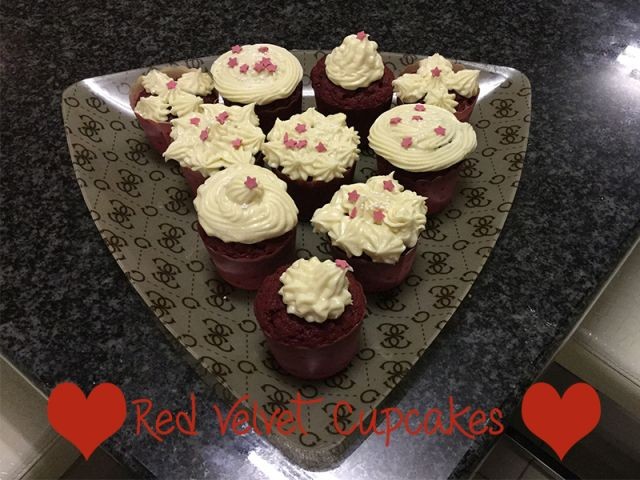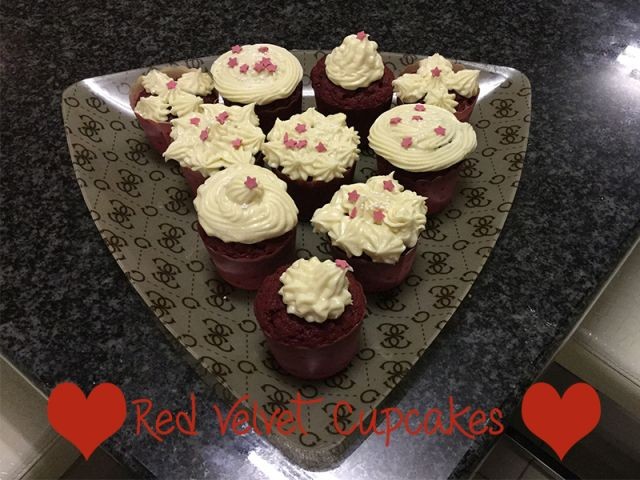 INGREDIENTS
Ingredients for the cake:
•1 ¼ cups flour
•205ml sugar
•½ teaspoon Bicarbonate of soda
•⅛ teaspoon salt
•1 ½ tablespoon cocoa
•¾ cup oil
•½ cup buttermilk ( room temperature)
•1 egg ( room temperature)
•1 ½ tablespoons red food colouring
•½ teaspoon vinegar
•1 teaspoon vanilla

Ingredients for the cream cheese icing:
•250g Philadelphia cream cheese
•62.5g butter
•½ teaspoon vanilla essence
•2 cups icing sugar

METHOD
Method for the cake:
•Preheat oven to 180 degrees Celsius
•Sift flour, sugar, bicarbonate of soda, salt, cocoa. Twice.
•In a separate bowl beat the egg, oil, buttermilk, food colouring , vinegar and vanilla essence with an electric hand mixer.
•Combine wet & dry ingredients and mix till smooth.
•Bake for 20-25 minutes.



Method for the icing:
•beat cheese, butter and vanilla till smooth
•add icing sugar mix till combined
•increase speed and mix till fluffy.
•top cakes with icing and spinkle sweets.

INFO & TIPS
Happy Baking:)
Comments ordered by Newest
---