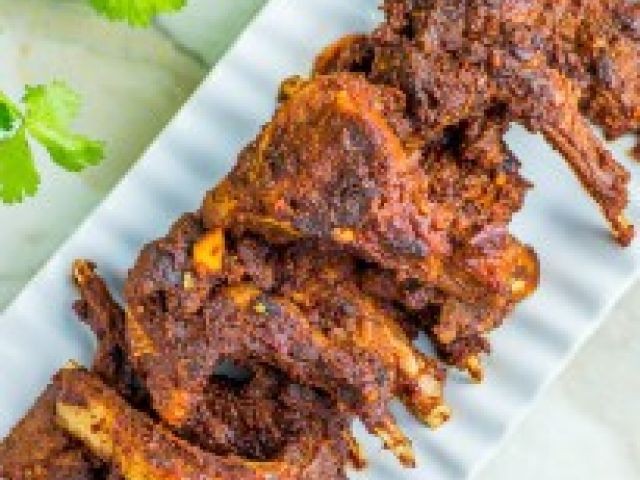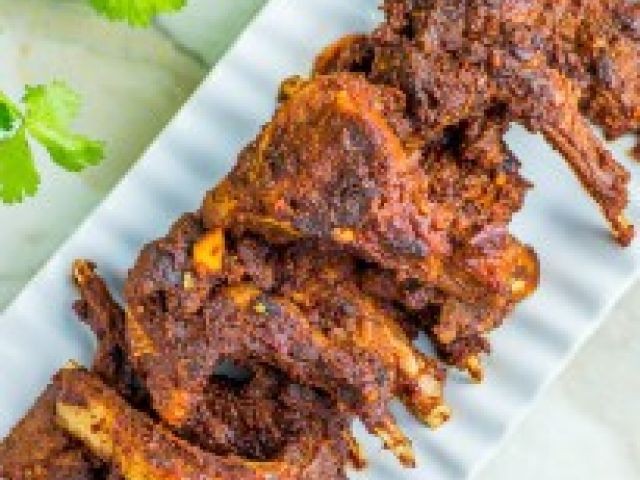 INGREDIENTS
For Marination:

2lb Lamb (Around 1kg)
11/2 Tablespoon Ginger Paste
11/2 Tablespoon Garlic Paste
6-7 Dry Whole Red Chili
4 Tablespoons Yogurt/Curd
1 Teaspoon Cumin Power
1 Teaspoon Coriander Powder
Red Chili Power (As needed)
2 Teaspoons Coriander/Cilantro Leaf Paste
3-4 Tablespoon Red Wine Vinegar
Salt (As per taste)

For the Lamb Chops:

8-10 Tablespoons Onion Paste
7-8 Tablespoons Vegetable Oil
6-9 Whole Black Pepper
2-3 Pieces Cinnamon Sticks
3-4 Pieces Cardamom
3-4 Pieces Cloves
7-9 Tablespoons Tomato Puree
1 Teaspoon Garam Masala Powder (Cinnamon, Cardamom, Cloves)
Salt (As per taste)
METHOD

Soak the dry whole red chili for few hours and then make a paste.
Wash the Coriander/Cilantro leaves and then make a paste using the blender.
Take a bowl, add Yogurt, Ginger & Garlic Paste, Red Chili Paste, Coriander/Cilantro leaf Paste,Cumin & Coriander Power,Red Chili Power,Chaat Masala Powder (Options), Red Wine Vinegar,Salt and mix everything together.
Now add the Lambs one by one to this mix and marinate for at least 4 Hours. Cover the bowl and keep it in refrigerator.
Once the marination is over, take a large skillet in low-medium flame and add the oil. Once the oil is hot add Whole Black Pepper,Cinnamon,Cardamom and Cloves.
When the aroma starts coming add the Onion Paste and stir for 2-3 minutes.
Add the marinated Lambs (Keep extra marination liquid aside) to the skillet and cook for 5-6 minutes.
The Lamb has to be cooked very slowly for a long duration without any water. So you need to make sure the Lamb does not get burned.
Reduce the flame to simmer and cover the skillet with a lid. Let the Lamb cook for another 30-45 minutes in simmer.In between in every 5 minutes turn the Lamb pieces so that both side will get cooked.
After 30-45 minutes when the masala will start getting dry, add the extra marinated liquid in small amount in every 5 minutes and cook the Lamb again for 30-45 minutes.
Now add the Tomato Puree and mix well.
Increase the heat to low and cook for another 15 minutes with the lid on the skillet. Check and turn the Lamb Pieces in every 3-5 minutes.
By now all the water from marination liquid, Onion paste & Tomato Puree must have been evaporated and the masala should have made a coating on the Lamb.
Add 1 Teaspoon Garam Masala Powder, Chaat Masala Power and mix them well.
Cook for another 5-10 minutes and your Lamb Chops should be ready.
Serve the Lamb Chops hot with Naan.

Notes
You can marinate the Lamb overnight, however I had marinated only for 4 Hours.
Sometimes the Lamb takes more time to be cooked, in case the Lamb is not cooked for you properly, then keep it in simmer/low flame for more duration.
It is not advisable to add any water however in case your Lamb is getting burned, sprinkle little bit of water.
Use a good non-stick skillet to make this recipe.
The Lamb Chops needs lots of patience, you can't make it quickly.
Onion paste- I use three onions lightly sauted and ground with stick blender.

Comments ordered by Newest
---