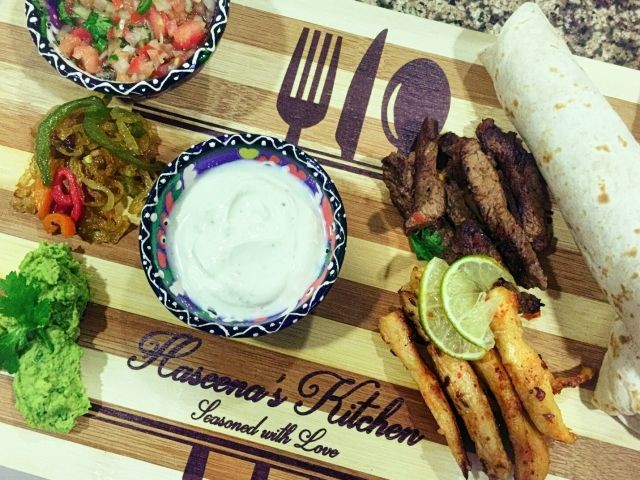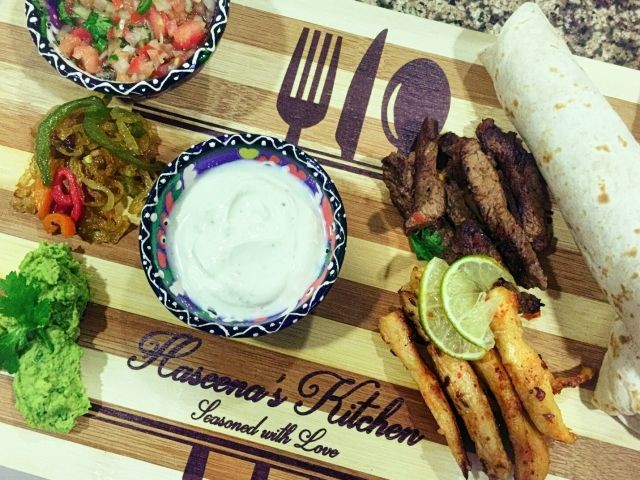 Fajita Duo With Salsa,sourcream,guacamole & Caramelized Onions
By @cakesandplaces
- KITCHEN FUNDI
RECIPE
Fajita Duo with Salsa,Sourcream,Guacamole & Caramelized Onions🌯
Recipe and pic credit:@cakesandplaces
Ingredients for steak:
1/2kg steak cut into strips
3tblspns soy sauce
1 teaspoon ginger garlic masala
½ teaspoon pepper
Leave to marinate for atleast an hour and cook in butter on a skillet until both sides have a good sear.

Ingredients for chicken:
½ kg chicken fillet cut into strips
2 tblspns lemon juice
½ Jeeru (Cumin)/cumin seeds
1 teaspoon salt
½ teaspoon pepper.
½ teaspoon ginger garlic masala.
Same as steak preparation.

Ingredients for Salsa:
1 tomato chopped into fine cubes
½ onion chopping into fine cubes
Coriander leaves chopped
Make a vinegarette with the juice of half a lime,3 tblspns of olive oil,salt and pepper to taste.Mix everything together and keep in the fridge until serving.

Ingredients for Sour Cream:
Half a cup of sour cream
1 piece of grated garlic piece
2 tblspoon lime juice
Salt to taste
Dry parsley
Mix everything together to get a smooth consistency.Keep in the fridge.

Ingredients for Guacamole:recipe credit:www.simplyrecipes.com
One ripe avocado
Juice of half a lime
¼ onion chopped up fine
¼ bunch of dhania (coriander) leaves chopped up fine
Salt and pepper to taste
Place the avocado in a bowl with lime juice and mash with a fork until smooth.Add in the remaining ingredients and stir with a fork until slightly lumpy mixture is achieved.

Ingredients for Caramelized onions:
Fry onion rings which have been sliced uniformly in a little butter/olive oil mixture until translucent.Add in 1 teaspoon of brown sugar and let cook on low heat until done.I also added mixed peppers to add colour and texture.
I bought tortillas and just slightly toasted them in a pan before serving.Assemble according to preference.

Comments ordered by Newest
---