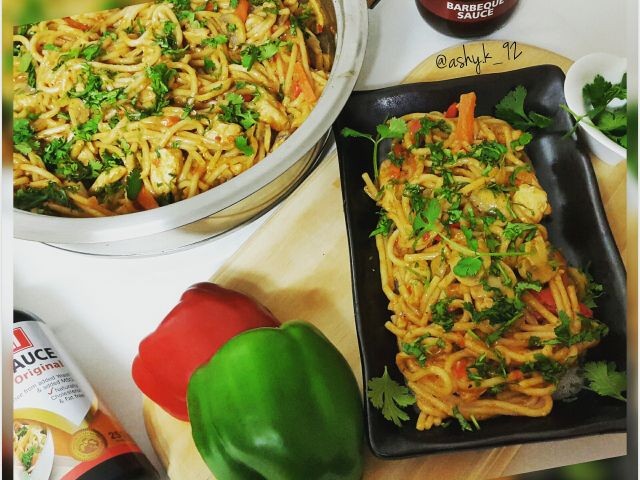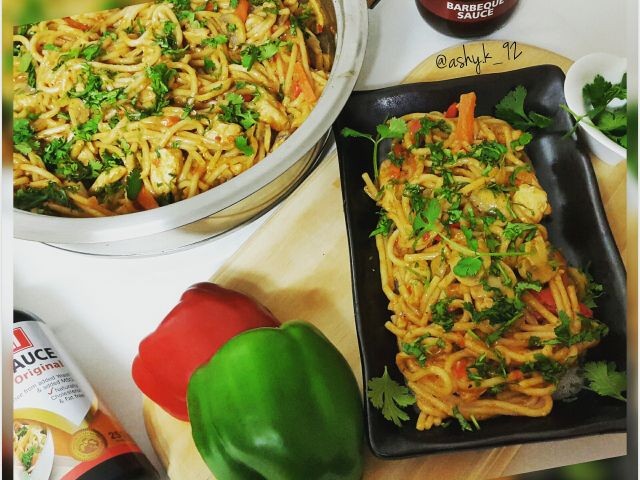 31
favs
1
coms
3,315
views
*chicken And Noodle Stir Fry*
By Ashy.k
- SOUS CHEF
RECIPE


Recipe adapted from cosmopolitan cuisine

@ashy.k_92


Boil 2 cups of spaghetti and set aside.

Marinate 1 cup of chicken fillet cut into small strips in:
Salt
1 teaspoon red masala
Lemon juice
Olive oil

Heat 60g of butter in flat pot and add
2 teaspoon crushed garlic
1 chopped green chilli (optional)
Braise untill garlic starts to sizzle then add in chicken with
1 punnet sliced mushrooms
½ cup julienne carrots
½ cup sliced peppers
Cook on low untill done. Mix in spaghetti.

Add:
3 tablespoon soya sauce
2 tablespoon bbq sauce
3 tablespoon peri peri sauce
4 tablespoon sweet chilli sauce
Mix well.
Garnish with finely chopped dhania (coriander).
Comments
Ordered By Newest
---
---
Suggest Recipes
You May Like
*chicken And Noodle Stir Fry* is part of the
Pastas, Pizzas
recipes category
TAGS
and
ashyk
chicken
fry
halaal
noodle
recipe
stir