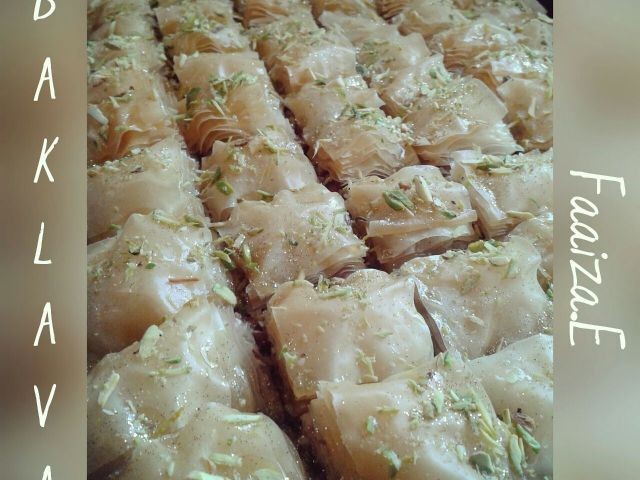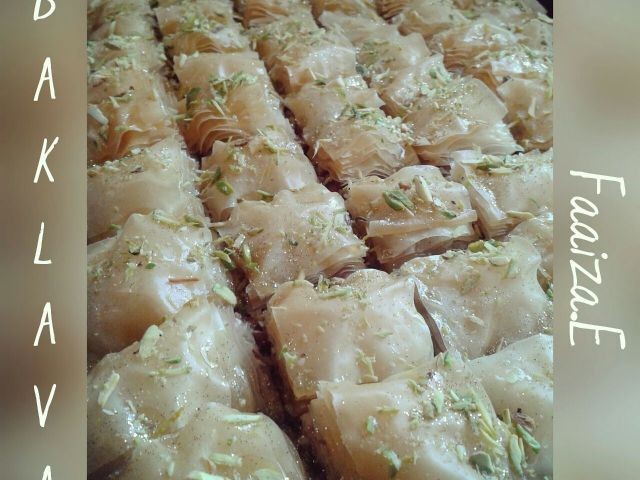 INGREDIENTS
recipe credit : Faaiza E
Baklava
3 cups nuts.. pistas, pecans and almonds (chopped)
½ cup flour
½ cup sugar
1 cup boiling hot ghee (Clarified butter)
1 packet phyllo pastry


METHOD
Mix nuts, flour, and sugar together. Cut phyllo pastry to fit baking tray. Put 4-5 sheets of pastry at the bottom of the tray, sprinkle with nut mixture. a few more sheets of phyllo then nuts.. layer and repeat until all the phyllo and nuts are used up. ending with phyllo sheets.
You should have about 3 layers. Cut into diamonds with a sharp knife. Pour hot ghee (Clarified butter) over (it must sizzle when ghee (Clarified butter) is poured over). Bake at 150deg for about an hour. Allow to cool.

Syrup:
Boil together
1 cup sugar and 1 cup water to a thin syrup. Add a pinch of tartaric acid and ½ cup golden syrup. Pour over cool baklava. Allow to stand in tray for at least 24 hours for syrup to seep in.
decorate with pistas and bronze dust..
Comments ordered by Newest
---