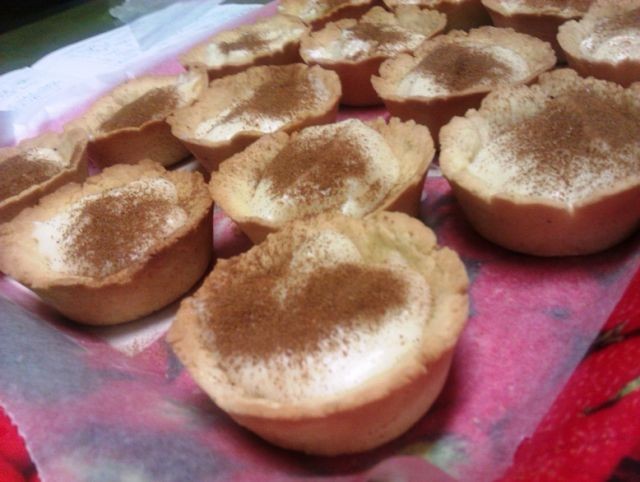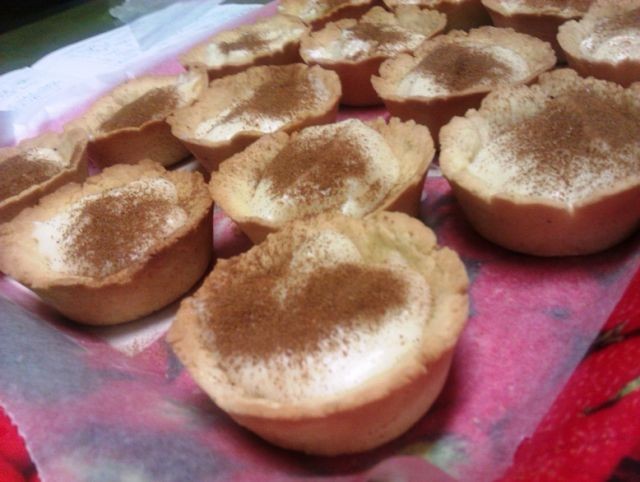 INGREDIENTS
Crust
2 and a half cups flour
¼ pound butter
½ cup sugar
1 egg
2 teaspoon baking powder
pinch salt

Filling
4 and a half cups milk
2 and a half tablespoon flour
¾ cup sugar
60g butter
3 eggs
2 and a half tablespoon cornflour
1 teaspoon vanilla essence
pinch salt

METHOD
Crust
Beat butter and sugar in mixture until
fluffy. Add egg and mix, add all dry
indgrediants and make into soft dough.
Press dough into muffin tray and bake in
moderate oven on 140 until golden brown.

Filling
Bring milk to boil in pot, beat eggs in
a bowl and add sugar, flour, cornflour
and salt to the eggs. Pour mixture into
milk pot stirring continuosly until
mixture thickens. Add butter and vanilla
essence to mixture. Pour into crust cups
and sprinkle with cinnamon.
INFO / TIPS / CREDITS
Make sure when pressing dough into
muffin tray it must be pressed down firm
against the tray, it must look like the
actual cup. Otherwise dough will rise up
and look like a biscuit :P
Enjoy :)
Comments ordered by Newest
---