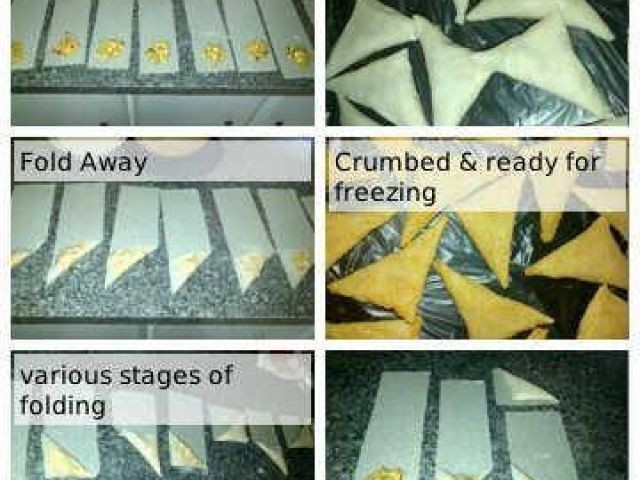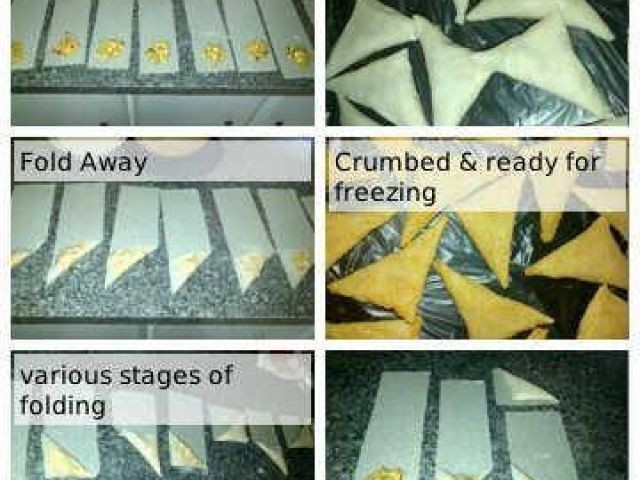 INGREDIENTS
1 kg CHICKEN FILLET WASHED,CUBED AND DRAINED
TO CHICKEN ADD:
...SALT TO TASTE
GREEN CHILLIES TO TASTE
2 tablespoon CRUSHED GARLIC
1 teaspoon JEERA
½ teaspoon BLACK PEPPER
½ teaspoon LEMON PEPPER
CUBED GREEN PEPPER.
COOK ON LOW HEAT AND WHEN IT IS DONE ADD A TIN OF CREAMSTYLE SWEETCORN, THEN COOK AGAIN. COOL.
ADD THE FOLLOWING:
1 CUP GRATED TUSSERS CHEESE
1 CUP GRATED MOZZARELLA CHEESE
1 CUP GRATED GOUDA CHEESE.

METHOD
MIX CHEESES WITH CHICKEN MIXTURE WELL.
FILL SAMOOSA PURR WITH THIS MIXTURE AND SHAPE LIKE A ROCKET, USING FLOUR PASTE.
MAKE SURE THAT ALL EDGES ARE SEALED.
DIP IN EGG AND ROLL IN BREADCRUMBS.

INFO / TIPS / CREDITS
Never tried. Recipe sounded interesting. Apparently its this years savoury! Not sure how to fold the pur to look like a rocket..
Comments ordered by Newest
---