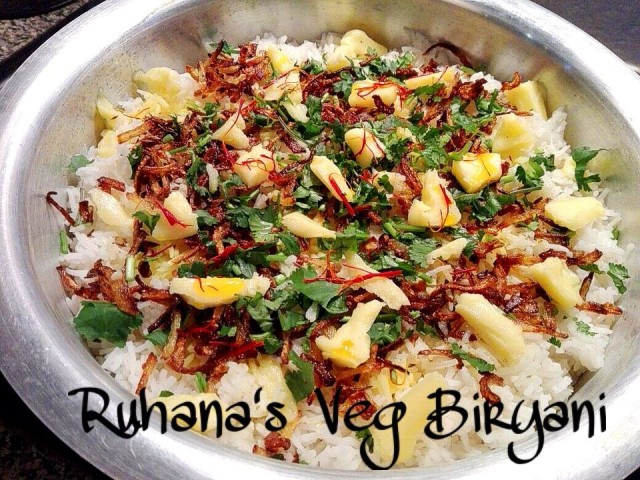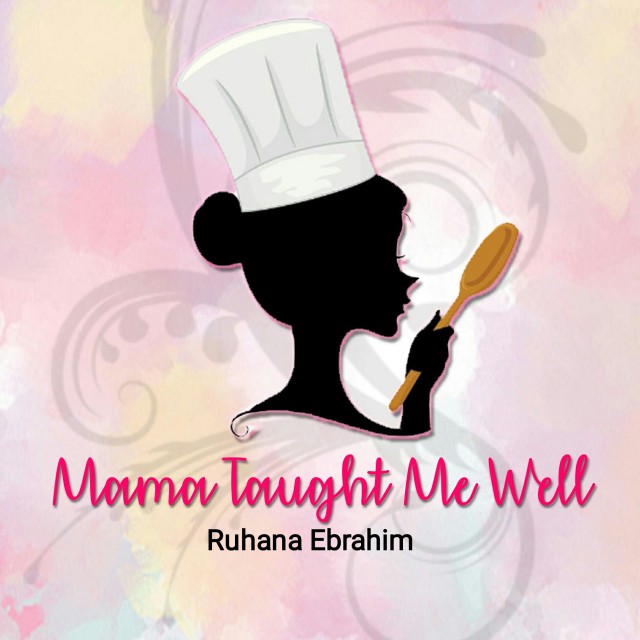 Ruhana Ebrahim
Grand Master
Interior Decorator.
Foodie!
Food styling.
Fusion Cooking.
Recreational baker.
Food Author of "Oh My Cupcakes!"
Mum and wife.
(Another 2 books on the way Insha Allah!)
---

South Africa
Joined 5 years ago
---
@mama_taught_me_well
RECIPE
Spicy Vegetable Biryani
Pic cred: Ruhana EbrahimRec cred: @mama_taught_me_well
Ingredients:2 cups basmati rice1 cup Masoor (Back lentils) (brown lentils)4 potatoes (peeled and cut into quarters) 2 tomatoes (liquidized) 2 onions (sliced)Oilghee (Clarified butter)Salt (to taste)½ cup gadra (borlotti) beans½ cup double (lima) beans ½ cup green beans (cut into halves)½ cup peas3 large carrots (peeled, cut in batons)1 cup sour milk½ teaspoon turmeric powder2 teaspoon chilli powder2 teaspoon dhana jeeroo powder½ tablespoon red ginger garlic masala2 sprigs curry leaves6 mint leaves3 whole green chillies2 bay leaves2 taj (cinnamon) sticks2 star anise3 Elachi (cardomom) pods Fresh dhania (coriander) Few drops yellow food colouring
Veg masala- 6 cashew nuts1 ½ teaspoon poppy seeds1 ½ teaspoon whole Jeeru (Cumin). (Grind into paste)
Garnish when steaming-½ teaspoon saffron threads½ cup warm milk mintdhania (coriander)Butterfried onions6 fried cashews
Method:1. Bring double beans to boil and drain. Leave aside.2. Boil gadra till tender. Drain and leave aside.3. Bring green beans to boil, drain and leave aside.4. Bring carrots and peas to boil. Leave aside.5. Mix all beans, carrots and peas. Add in half of the quantity of dry spices, half of curry leaves and mint.6. Add in the sour milk and mix well.7. Allow the vegetables to marinate for an hour.8. Place the rice into a large pot of water and bring to a boil. Rinse the rice 3 times, add in fresh water and return it to the stove top.9. Add in 1 bayleaf, 1 star anise, 1 cardamom and 1 cinnamon stick. Add in 1 teaspoon rough salt.10. Cook the rice until firm. Drain the rice and set it aside.11. In a pan add some ghee (Clarified butter) and the 1 sliced onion and braise till golden brown. Leave aside.12. Place the potatoes into a bowl and add in a few drops of food colouring.13. Deep fry the potatoes until crisp on the outside and soft inside.14. In a pot of boiling water, stir in the lentils. Add pinch rough and pinch turmeric. When the lentils are firm, drain.15. In a pot add enough oil to cover the base of pot.16. Add in onions and whole spices.17. When the onion is translucent, add in veg masala, masala paste, mint and dry spices.18. Simmer till fragrant, then add in tomato and curry leaves. Cook for 3 minutes.19. Remove veg from marinade and add to tomato.20. Cook veg for 10 minutes.21. Mix Masoor (Back lentils) into sourmilk marinade and leave aside.22. In a large deep pot add enough cooked rice to cover the base of the pot.23. Add in cooked vegetables, fried potatoes, and Masoor (Back lentils).24. Add another layer of rice. 25. Then mix saffron in warm milk and pour over rice.26. Place on the fried onions, coriander, cashews and few blobs butter.27. Place a piece of foil over the pot cover it and place in preheated oven to steam. 28. Steam for approx 30 minutes. Serve the vegetable biryani hot with dhai and fried papad.
INFO & TIPS
It takes time to make this and is spicy.
POSTED ON
11 Oct 2017
WOULD YOU LIKE TO ?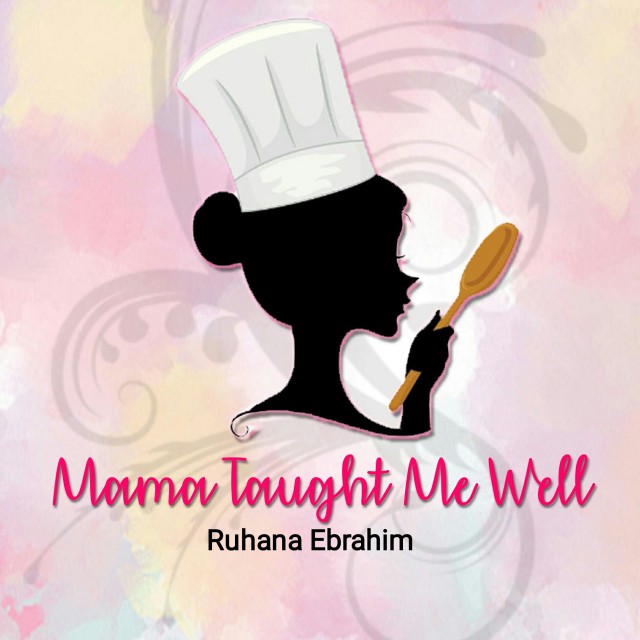 Ruhana Ebrahim
Grand Master
Interior Decorator.
Foodie!
Food styling.
Fusion Cooking.
Recreational baker.
Food Author of "Oh My Cupcakes!"
Mum and wife.
(Another 2 books on the way Insha Allah!)
---

South Africa
Joined 5 years ago
---
@mama_taught_me_well
COMMENTS
You May Also Like
Suggest Recipes