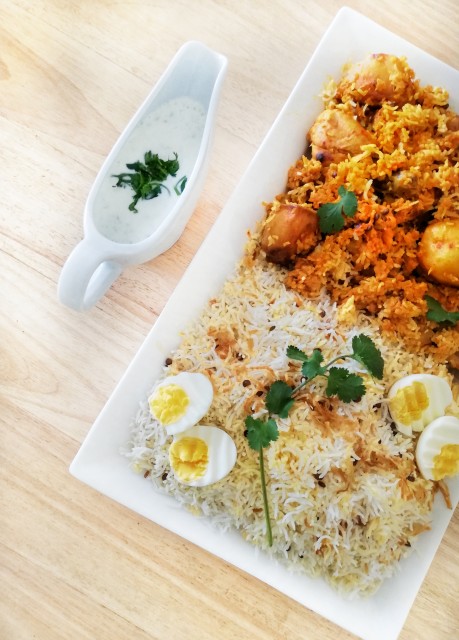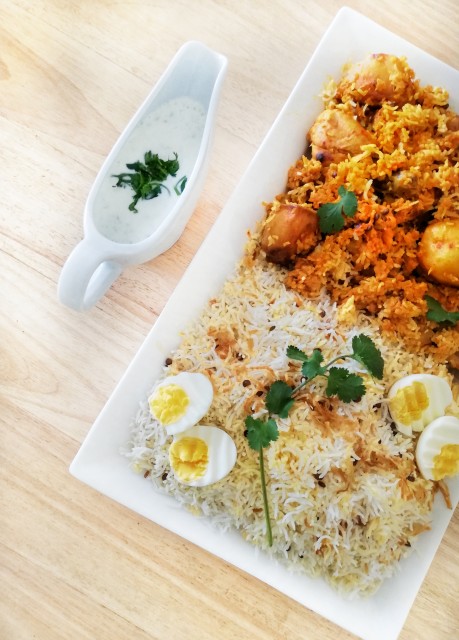 20
favs
2
coms
1.3K
views @saadia_b_
SOUS CHEF
40
76.7K
69

Creative expression, real, soul-full content...
CREDITS
@saadia_b_
Serves 4 - 5 ppl.


INGREDIENTS
1 chicken 2.5 cups rice ¼ - ½ cup Masoor (Back lentils) (brown lentil)(I use ¼ cup) 4 potatoes cut into ½ (to fry) 2 potatoes sliced into thick slices (to place at the bottom of the pot) 2 - 3 whole green chilli 1 teaspoon Whole cumin 3 cinnamon sticks 3 cloves 3 whole peppercorns 4 cardamom pods (slightly bruised) 2 tablespoon red ginger garlic paste Red chilli flakes to taste (2 - 5 teaspoon heat dependant) (I use a lot of a mild chilli powder for Colour) 1 tablespoon coriander powder 1 tablespoon cumin powder ½ teaspoon tumeric powder 2 tablespoon lemon juice 2 tablespoon vinegar ¾ cup yoghurt/sour milk 5 large handfuls of crushed fried onions Juice of 1 large tomato (or 2 medium) Salt to taste (3-4 teaspoon. Adjust to your discretion) ½ - 1 teaspoon saffron (crushed) 1 cup of water2 boiled egg
METHOD
Directions : Boil Lentils until soft. Prepare your Marinade with all the whole spices, wet paste, dry powder spices. Mix saffron with 1 cup of water.Add ¼ to ½ of the saffron water into the marinade. Marinate your chicken up to a day before. Add lentil to the marinade (reserve a little for garnish) Fry potatoes on medium low until cooked. Boil rice until half-done. (boil delicate rice until halfway, boil firmer rice until just done). Prepare you pot : (a suitable size that would allow your chicken to fit side by side) Grease the bottom with melted ghee (Clarified butter) and oil. . Layer process : (layer process on reels) Slice 2 raw potatoes and place at the bottom of the pot. Add a splash of water. Layer chicken. Add green chilli. Layer potatoes. Layer rice halfway.Add some saffron water. Layer the rest. Sprinkle the rest of the water. Top with sprinkles of lentils and fried onion. . I make a few holes all the way to the bottom of the pot (careful not to hit a potato or meat piece 😋, but no trainsmash if you do) It assists the steam and water to evaporate. Steam on medium until bubbling/a thorough steam. Reduce to medium low. Steam for 1 hour 15min or until all the water has evaporated. Biryani chicken Masala should be moist (not runny or completely dry.).Plating : Delicately remove your white rice and plate. Remove your Masala rice and chicken, potatoes (toss together if needed) and plate alongside the white rice or in a seperate platter. Garnish with Lentils, fried onion and coriander. Top with halved boiled egg. . Serve with spicy sour milk (sour milk, salt, crushed cumin, coriander, garlic and green chilli processed until smooth) SaladAchaarPappadoms . Enjoy ❤️🌶️ @saadia_b_
SOUS CHEF
40
76.7K
69

Creative expression, real, soul-full content...
Comments
Ordered By Newest
---
---
Suggest Recipes
You May Like
Layered Chicken Biryani is part of the
Rice Dishes
recipes category