 8
favs
0
coms
3K
views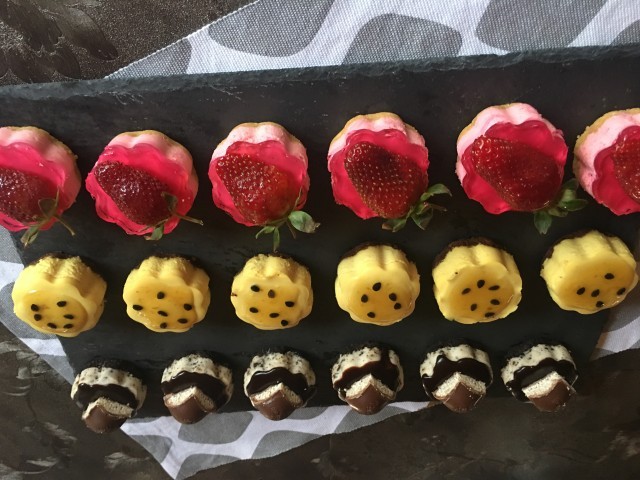 Mubina
MASTER CHEF
316
1.3M
418

Three lovely kids 👶🏻👲🏻👩🏻wonderful husband 💑 foodie n kitchen obsessed 🌺Instagram- @mubina_18 ...
Chocolate Cake With Chocolate Mousse Filling
By Mubina
- MASTER CHEF
RECIPE
Chocolate cake with chocolate mousse filling
Recipe :- adepted from net
Pic :- @mubina_18
Ingredients:
For cake:
2 cups (250gr) all-purpose flour
1 ½ cups (300gr) sugar
¾ cup (90gr) unsweetened cocoa powder
1 ½ teaspoons baking soda
1 ½ teaspoons baking powder
½ teaspoon salt
½ cup (120ml) hot water
1 teaspoon instant espresso coffee
2 large eggs, at room temperature
1 cup (240ml) milk, at room temperature
½ cup (120ml) Greek yogurt, at room temperature
1 tablespoon pure vanilla extract

For mousse filling:
½ cup (120ml) hot water
4 tablespoons (30gr) unsweetened cocoa powder
½ teaspoon instant espresso coffee
1 ½ cup (260gr) bittersweet chocolate chips
2 cups (480ml) heavy cream, cold
2 tablespoons sugar
⅓ cup Nutella
1 ½ teaspoon gelatin

For chocolate ganache:
½ cup heavy cream
1 cup chocolate chips
1 tablespoon softened butter, optional

To make the cake:-
preheat the oven to 350°F (175°C). Grease two 9-inch round cake pans.
In a medium bowl, whisk together flour, sugar, cocoa powder, baking soda, baking powder and salt. Set aside.
In a small bowl, mix together water and instant espresso coffee. Set aside.
In a mixing bowl with paddle attachment, mix together eggs, milk, yogurt and pure vanilla extract until well combined. Add half of the flour mixture for a minute, then add the remaining mixture and mix until just combined. Stir in the espresso water.
Pour the batter into two cake pans. Bake for about 30-35 minutes, or until inserted toothpick comes out clean. Cool on wire racks for 10 minutes. Then remove the cakes from the pan and cool completely.

Chocolate mousse:-
Sprinkle gelatin over cold water in small bowl; stir and let stand 1 minute to soften.
Add boiling water; stir until gelatin is completely dissolved. Let stand to cool.
In a small bowl, dissolve cocoa powder and instant espresso powder in a hot water.
In a double boiler, melt chocolate chips until nice and smooth. Remove from heat and cool slightly.
In a mixing bowl with whisk attachment, whip the heavy cream with the sugar until hard peaks form.
Stir in the cocoa mixture and Nutella into the melted chocolate. Add half of the whipped cream and mix everything together with folding motion. Fold in the remaining whipped cream and mix well until no white streaks remain. Lastly add gelatin. Mix well. Refrigerate until the cake is cooled completely.
To assemble the cake, slice the cakes horizontally into two equal layers, using a long serrated knife.
Put the first cake layer into a springform pan and spread about a little less than ⅓ of the mousse filling. Then put the next layer of the cake and spread the mousse and so on until the cake is built. Make sure to leave a bit of mousse to cover the top of the cake. A very thin layer of mousse on top is all you need. Refrigerate the cake for at least 2 hours or overnight.
Once the cake is cooled, make the chocolate ganache. In a small saucepan, bring heavy cream to a simmer. Do not boil. Pour hot cream over chocolate chips, and let it sit for good 2 minutes. Then mix well until smooth for couple minutes. Stir in butter to add some shine.
Remove the springform sides. Pour the ganache over the cake while the ganache is still runny, if you want smooth glaze. Or, you can let it cool and thicken a little bit to spread as a frosting.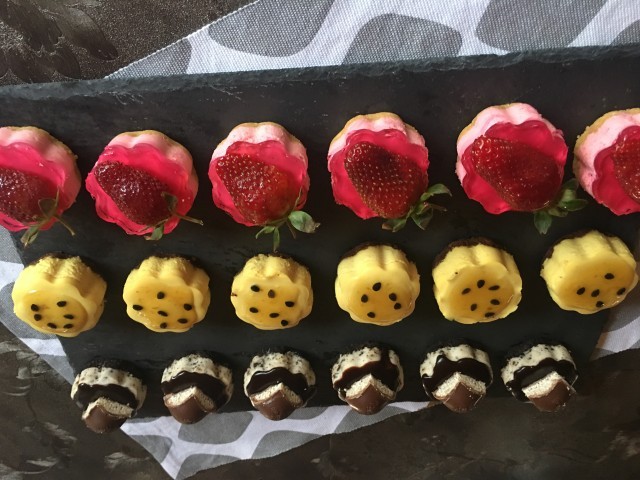 Mubina
MASTER CHEF
316
1.3M
418

Three lovely kids 👶🏻👲🏻👩🏻wonderful husband 💑 foodie n kitchen obsessed 🌺Instagram- @mubina_18 ...
Comments
Ordered By Newest
---
---
Suggest Recipes
You May Like
Chocolate Cake With Chocolate Mousse Filling is part of the
Cakes
recipes category