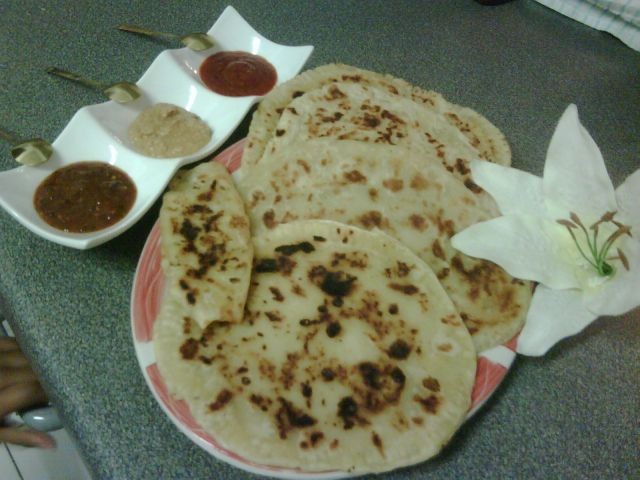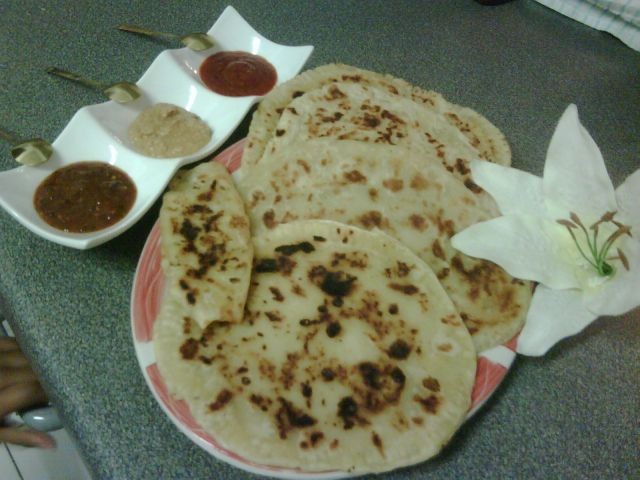 INGREDIENTS
4 cups cake flour-sifted
310ml lukewarm water
2 tablespoon ghee (Clarified butter) or as needed
1 teaspoon salt
FILLING:
2 cups biled potatoes-mashed
1 tablespoon oil
1 sp garlic paste
1 teaspoon jeera seeds
½ teaspoon turmeric
1 small onion-finely chopped
salt to taste
2 green chillies-chopped
fresh dhania (coriander) to taste-chopped

METHOD
Add ghee (Clarified butter) & water to dry ingredients.
Mix to a pliable dough. Cover with
cloth while preparing filling.
Heat oil & add onion, jeera, turmeric &
garlic. Stir in mashed potatoes & salt.
Remove from heat, stir in greens. Allow
to cool.
Roll out rotis (16). Spread filling on
8 of the rotis. Keep edges free of
filling. Cover with remaining 8 rotis.
Seal right around to stop filling from
seeping out. Roll lightly & fry in
heated pan/tava. Brush with ghee (Clarified butter) & turn
a few times till freckled on both
sides. Serve hot.
Comments ordered by Newest
---