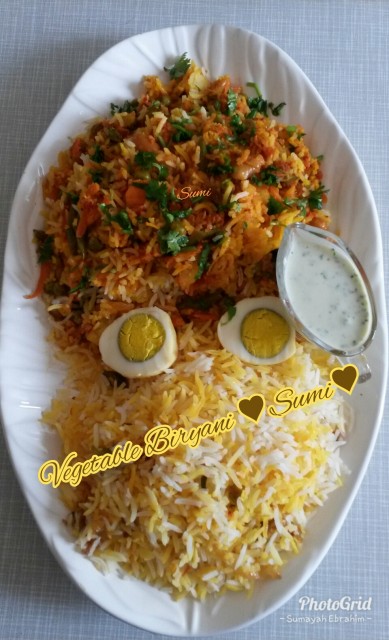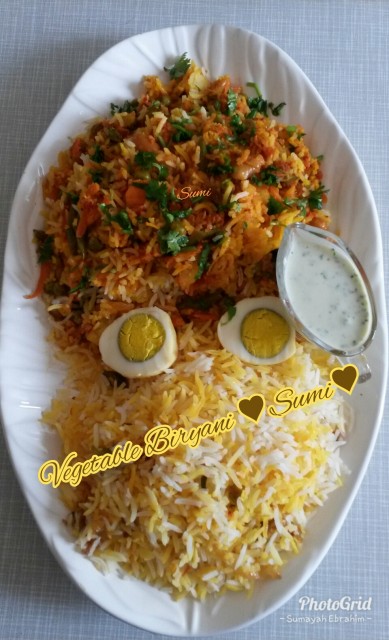 RECIPE
Recipe From Purple Indian Delights.
Pic by Sumi

2 cups basmati rice. ( Wash & soak for 15 minutues in cold water)
1 cup Masoor (Back lentils) soak for 4 hrs or overnight
½ cup double beans or papdi beans
½ cup shelled beans
½ cup string beans (snap In 3 or 4 pieces)
6 baby potatoes(peeled rub arad (Turmeric) before frying)
6 pickling onions
2 small brinjals (Cut lengthwise & steep in salt water)
2 medium onions( slice ¼ & grate rest)
2 peppers ( if u have both red &Green it will look better when served)

Note. If any of the above
vegetables is unavailable it will not matter. Also of there is some other specie in season add it.

½ cup tomato (blanch & puree)
4 green chillies(wash slit halfway
½ teaspoon suwa /dil seeds
1 ½ teaspoon ginger garlic
1 ½ teaspoon chillie powder
½ cup yoghurt
1 teaspoon crushed dhunia seeds
1 teaspoon jeera seeds
1 teaspoon salt
¼ teaspoon a arad (Turmeric)
juice of 1 lemon
few sprigs of thyme or mint
¼ cup ghee (Clarified butter)
½ cup oil
¼ teaspoon saffron. ( steep in boiling water for 5 minutes)
¼ teaspoon Elachi (cardomom) powder

1. Boil rice in salted water to which has been added 2 pods Elachi (cardomom) 2 sticks of cinnamon & 3 whole cloves.
2. Boil Masoor (Back lentils) in salted Water till done. Please don't allow ti get mushy 3. Fry grated onions in oil & as soon as they begin to get gold in color strain of and cool.
4. In the same oil fry the potatoes till they are a lovely gold color. Remove from oil &Keep aside.
5. Clean cut & wash rest of vegetables. Drain of moisture &put In a bowl . Add sprigs of thyme or mint or both.
6. To yoghurt add pureed tomatoes, lemon juice & all the other spices. Also add half of the saffron to this. Mix with spoon then pour this marinade over the blow of vegetables.
7. Add the fried grated onion to bowl of vegetables & gently mix 8. In a large flat bottomed pot (or a casserole if u wish to cook the Biryani in the oven) put in all the oil that was used for fryin the onions etc. Top it with another 2 tablespoon oil. Arrange the vegetables (but not the potatoes) attractively over the oil.
9. Spread the Masoor (Back lentils) over the vegetables & the potatoes over the Masoor (Back lentils). Lastly cover the Masoor (Back lentils) with the rice. Take a few spoonful of the rice & streak it with the remaining saffron. Then replace the rice.
10. Put the ghee (Clarified butter) in frying pan. Fry 1 teaspoon of jeera seeds,& the sliced of onions in it . When the onion is gold in color sprinkle contents of pan over biryani.
11. Bring pot to start sizzling over high heat ( 5 minutes) then over low heat gently simmer for 30 minutes & the Buryan ie will be done.

In the oven
I would suggest that the casserole with its lid tightly closed be put in a large pan of water that reaches half way up to the casserole. @ 180°C it will need 45 to 60 minutes.

Comments ordered by Newest
---