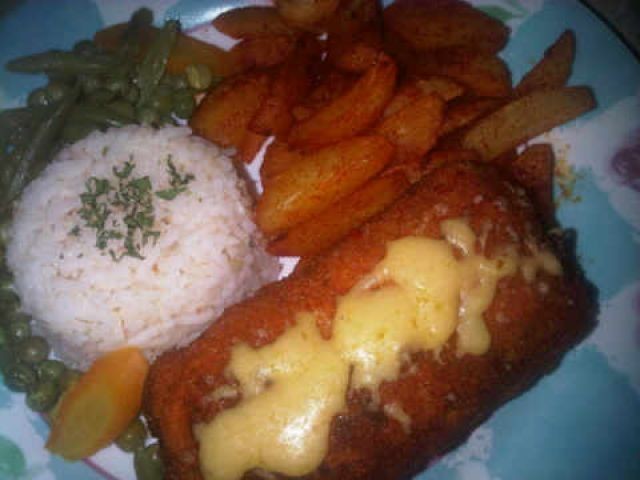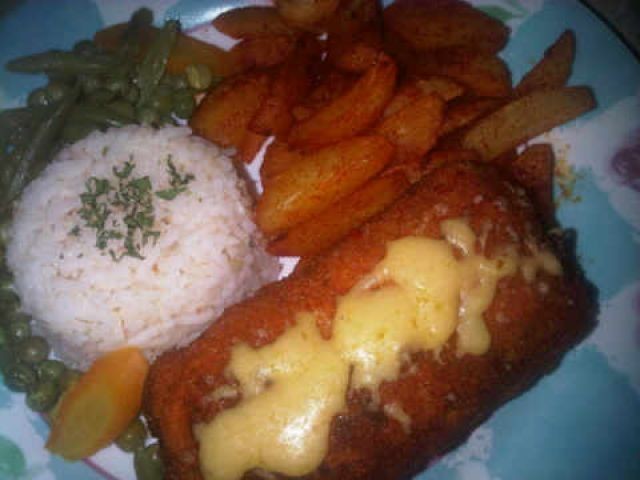 INGREDIENTS
1 lg chickens fillet (the whole dbl piece)
hammered to thin out
4 med prawns sheeled
1 tablespoon butter
3 tablespoon grated cheddar cheese
garlic 2 teaspoon
salt
lemon juice
cake flour
egg 1
breadcrumbs
oil for deep frying
METHOD
marinate the chicken fillet in salt lemon juice
and 1 teaspoon garlic for at least an hour.
in a pan put the prawns,butter salt and a teaspoon of
garlic . cook till dry and cooked through.
cool completely.
liberally flour a chopping board or tray and
place the fillet on it.
now place the prawns and cheese on the width of
the fillet fold in the sides like a spring
rolland roll up the fillet flouring as you go.
pick it up and freeze it for an hour.dip in egg
and breadcrumbs. deep fry. put on an oven trsy
and sprinkle cheese . grill to melt. serve with
steamed veggies and chips .
Comments ordered by Newest
---