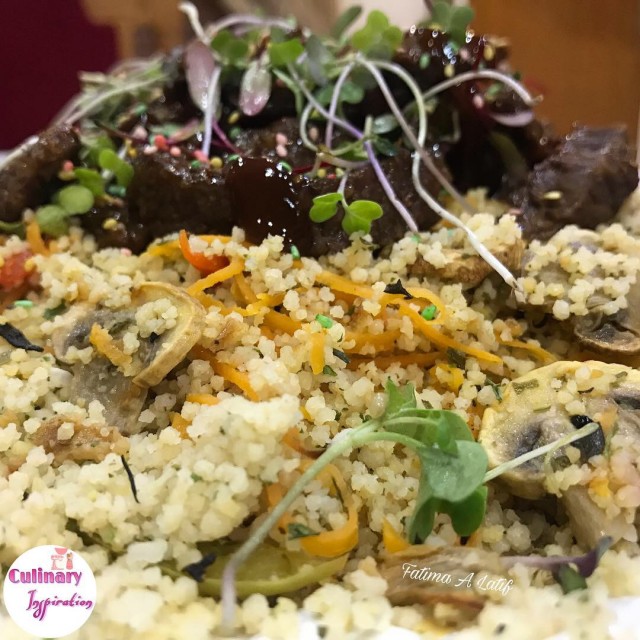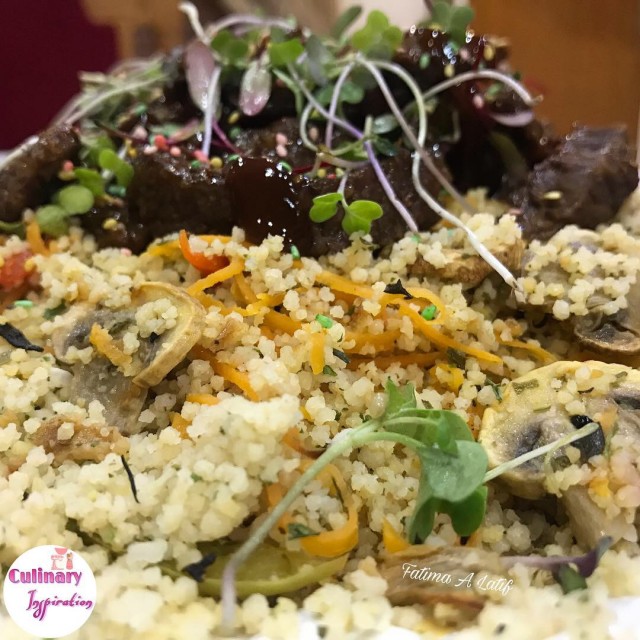 12
favs
0
coms
1.4K
views Fatima A Latif
MASTER CHEF
846
4.2M
1.3K

So grateful to be sharing my world with you 💛
www.culinaryskillsbyfatima.wordpress.com...
CREDITS
📝 @fatima21bulbulia
📸 @_culinaryinspiration_


INGREDIENTS
Bismillah hir Rahman nir Raheem
2 carrots julienned¼ red pepper julienne ¼ yellow pepper julienne ¼ green pepper julienne 6 marrows sliced into rounds (I omitted)10 mushrooms sliced 1 red onion sliced 8 spear corns halved
Prepare the following: 3 tablespoons olive oil 1 teaspoon lemon pepper ½ teaspoon orange pepper spice Juice of half a lemon ½ teaspoon Italian herbs ½ teaspoon parsley 1 teaspoon Aromat (a South African Spice)1 teaspoon ground garlic1 teaspoon ground green chilies
Pour over prepared veggies and grill in the oven until beautiful roasted.
Prepare 1 ½ cups couscous with the same amount of warm water. Allow to absorb. I used @woolworthsa onion & garlic whole-wheat cous cousDrizzle 2 tablespoon olive oil and 1 teaspoon salt. Use a fork to mix and loosen couscous.
Toss veggies into couscous.
Beef strips: 500g fillet/rump steak stripped
Marinate in the following:2 tablespoons lemon juice 1 teaspoon lemon pepper 1 teaspoon Texan steak 1 teaspoon pepper steak spice 1 teaspoon steak & chops ½ teaspoon orange pepper spice 1 teaspoon@chilliesauthentic spicy BBQ 2 tablespoons bbq sauce
METHOD
Prepare a wok/shallow frying pan , melt 3 tablespoons butter on a high heat. Add half a sliced red onion and braise until limp. Add in marinated steak. Toss steak in intervals allowing to stir fry.
Do not add in water.
Once steak is stir fried, add in a dash of Worcestershire sauce & Soya sauce. Toss.
Cut fresh springs of green onion and server immediately with a side of prepared couscous 🥄
INFO & TIPS
Slightly tweaked by Fatima A Latif Fatima A Latif
MASTER CHEF
846
4.2M
1.3K

So grateful to be sharing my world with you 💛
www.culinaryskillsbyfatima.wordpress.com...
Comments
Ordered By Newest
---
---
Suggest Recipes
You May Like