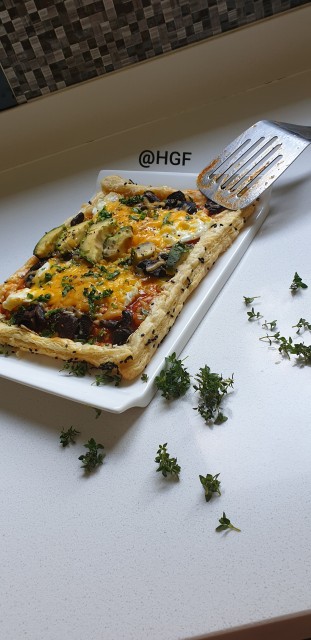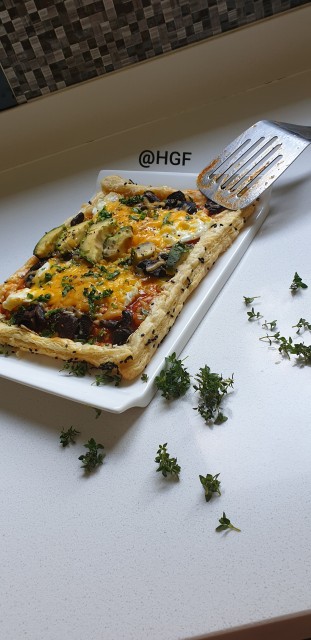 20
favs
2
coms
2.5K
views
CREDITS
@hunger_games_foodie
INGREDIENTS
Butter pastry big squares sesame seeds for sprinkling Baked beanschopped onions1 grated tomatospices : salt, chilli powder, cumin powder, coriander powder and little turmeric.chopped mushrooms, green bell peppers, sliced green chillies, avocado slices.Eggs grated cheese and spring onions
METHOD
First roll up the side/edges slightly so the filling wont fall off! I sprinkled some black sesame seeds. Bake according to instructions.
Leave to cool once ready and out of oven.And prior cook some masala baked beans.
Masala beans: sautè chopped onions in oil. Throw in 1 grated tomato and add spices of salt, chilli powder, cumin powder, coriander powder and little turmeric. Cook this till sauce sticks to pan. Throw in a can of baked beans and ½ cup water. And cook further all on a reduced heat.
Keep chopped mushrooms, green bell peppers, sliced green chillies, avocado on the side to garnish over the pastry sheet..
Fry your eggs sunny side up. And place everything over the pastry. Sprinkle grated cheese and spring onions... bake till cheese melts!! And Enjoy a Hearty Breakfast!
Comments
Ordered By Newest
---
---
Suggest Recipes
You May Like
Breggie Pie is part of the
Breakfast, Brunch
recipes category
TAGS
breggie
halaal
hungergamesfoodie
pie
recipe