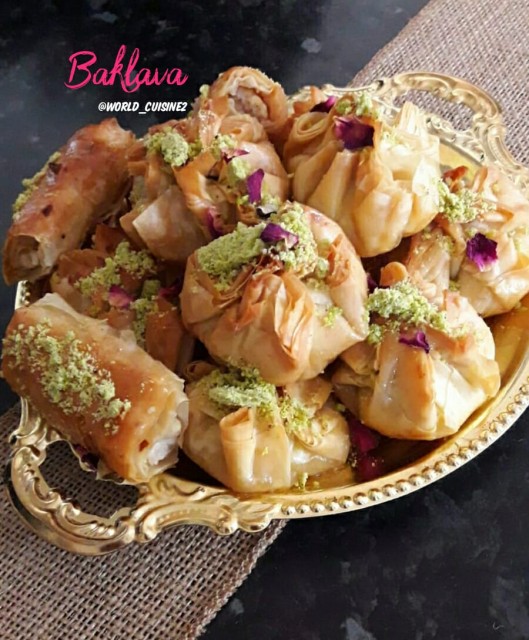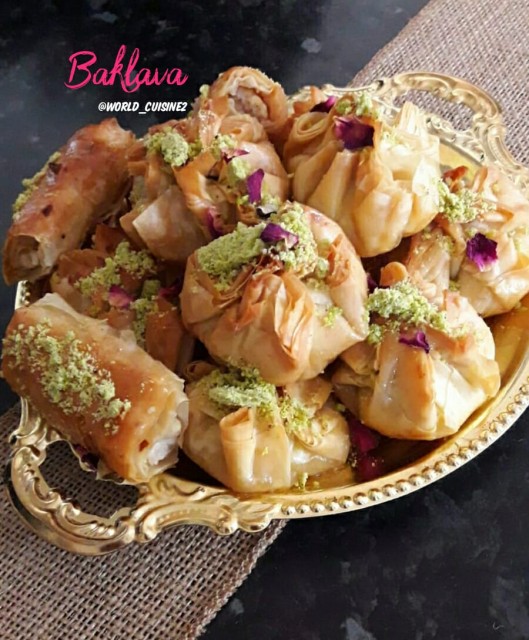 20
favs
0
coms
2.4K
views
CREDITS
Picture credit: @world_cuisine2
Recipe credit: @manal.massoud
*Tweaked the recipe slightly by adding cinammon stick/powder*
INGREDIENTS
STEP 1:Preheat oven to gas mark 4.
STEP 2:Prepare Syrup by adding all ingredients in a saucepan and bringing it to a boil and remove. Let it cool.¾ cup sugar¾ cup water½ cup honey.1 stick cinnamon.3 gloves.
STEP 3: In a food processor blitz 1 ½ cups walnuts 1 tspoon of cinammon 2 tablespoon of sugar.
METHOD
STEP 4: 1 packet Filo pastry cut in squares.Brush each layer with melted butter (5 or 6 layers)Place in each space of a muffin tin add 2 tbspoon of ground nuts in each,gather up the outside and scrunch them together.
STEP 5: Bake for about 25 minutes or until golden.once out pour cold syrup on hot baklava. Allow to cool sprinkle nuts on top for decoration
Comments
Ordered By Newest
---
---
Suggest Recipes
You May Like