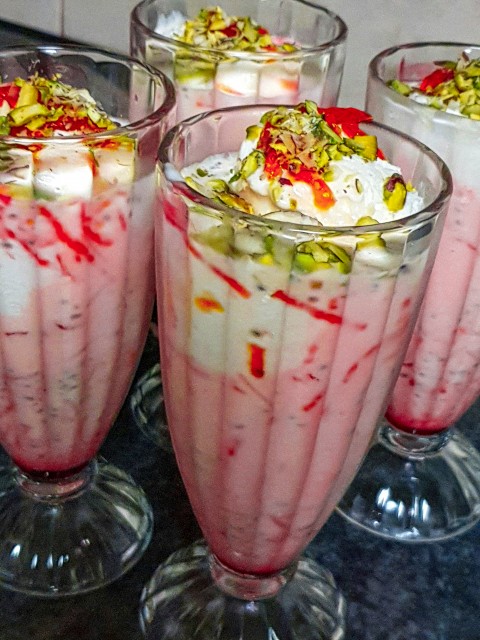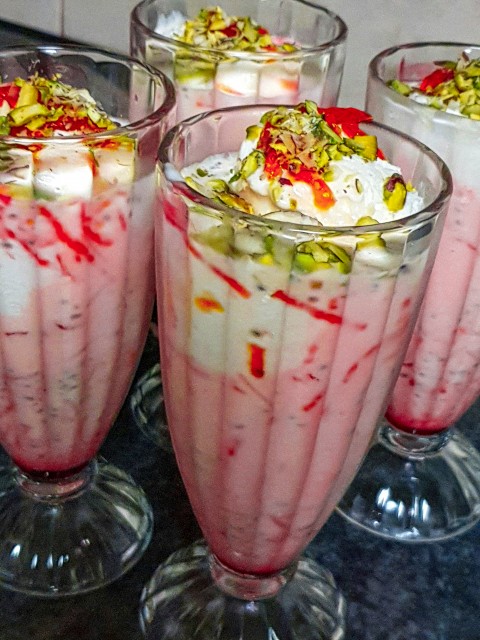 CREDITS
@the_kitchen_girl
INGREDIENTS
Stated below:
METHOD
1. Boil for about a minute 1 teaspoon agar agar (falooda powder) powder with 500ml water and pink food colour. Leave aside to set.
2. Heat up 500ml water and boil ½ cup falooda sev (vermicelli) till done. Leave aside with the water.
3. Bring 600ml milk, condensed milk to taste, to the boil. Add a little less condensed milk as u still need to add rose syrup. It will get sweeter.
4. Add the boiled milk to the water with sev (vermicelli), and place in a jug.
5. To the jug, add rose syrup to taste, sabja/ tukmuriya/ basil seeds as much as you prefere. I add 2 tablespoon. Leave aside for the mixture to completely cool down and the seeds swell up. I leave mine in the fridge for atleast 6 hours.
6. Grate the agar agar (falooda powder) mixture from 1) Leave aside.
7. In a milkshake cup, drizzle the sides with some rooh afza. Add 3 +- tablespoon grated agar agar (falooda powder) mixture to each cup. Add your chilled falooda milk. Top with vanilla ice cream, 1 teaspoon mawa, more grated agar agar (falooda powder), drizzle with more Rooh Afza. Top with sliced Almonds and pista (pistachio nuts).Serve immediately.
Comments ordered by Newest
---