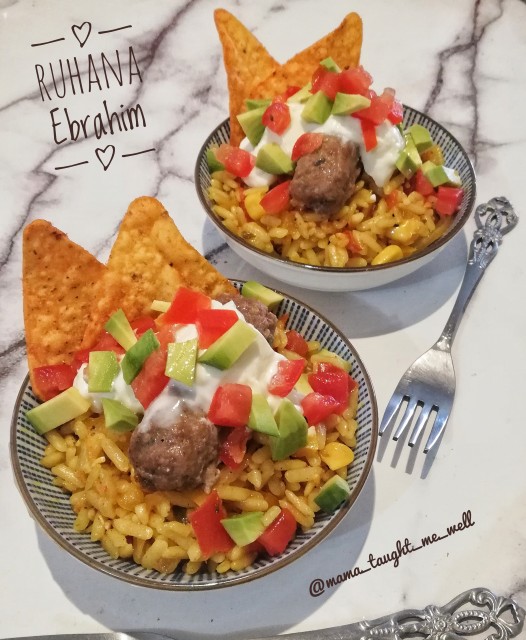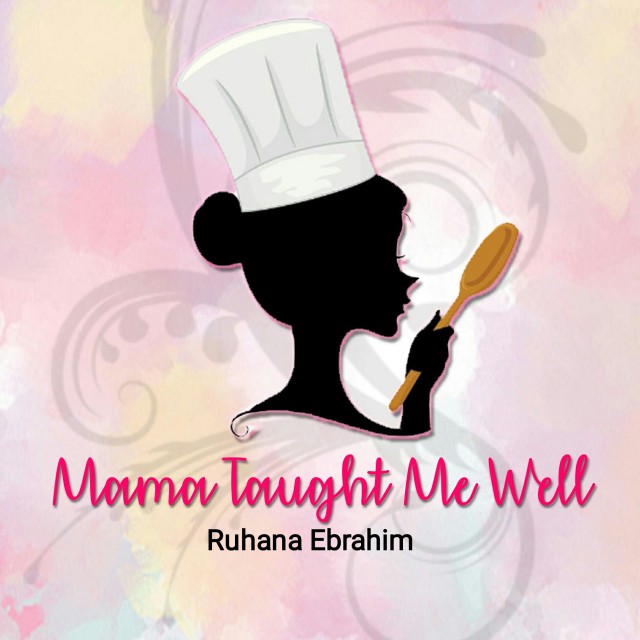 Ruhana Ebrahim
Grand Master
Interior Decorator.
Foodie!
Food styling.
Fusion Cooking.
Recreational baker.
Food Author of "Oh My Cupcakes!"
Mum and wife.
(Another 2 books on the way Insha Allah!)
---

South Africa
Joined 6 years ago
---
@mama_taught_me_well
CREDITS
Rec cred: @mama_taught_me_well
Pic cred: Ruhana Ebrahim


INGREDIENTS
500g pasta riceDiced rainbow peppersDiced onion2 Julienned carrots½ cup frozen cornSalt and pepper (to taste)2 tablespoon butter3-4 tablespoon Robertson's Spice for Rice1 avocado (diced)1 tomato (diced)Coriander (chopped)Sour creamBlue packet Doritos
Seekh kebabs-500g beef mince (washed and well drained)1 onion (grated, liquid squeezed out)1 teaspoon salt½ teaspoon white pepper1 teaspoon dhana jeeroo powder1 tablespoon ground garlic½ teaspoon garam masala1 teaspoon ground green chillies ¼ bunch fresh coriander (chopped)
METHOD
Seekh-1. Mix everything together. 2. Form long/fingers seekh. 3. Place on a greased tray in freezer till firm.4. Bake in 200degC oven till done.
Pasta Rice-1. In a deep pot, fill with water till 2/3 full.2. Add a little oil and salt to pot and bring to boil.3. Add pasta rice, mix in and boil for 8min.4. Drain pasta rice into a colander.5. Drizzle a little oil in pot, add peppers, corn, carrots and onion with pinch salt and pepper and saute till just tender.6. Add pasta rice to veg, along with spices and butter. Gently mix in.
Assembly-1. Mix diced avo, tomato and coriander together.2. Spoon pasta rice in a bowl.3. Place on cooked seekh.4. Spoon on a dollop of sour cream.5. Spoon over diced avo & tomato. Garnish with Doritos and serve.
INFO & TIPS
Note: May use store bought seekh.
POSTED ON
08 Feb 2020
WOULD YOU LIKE TO ?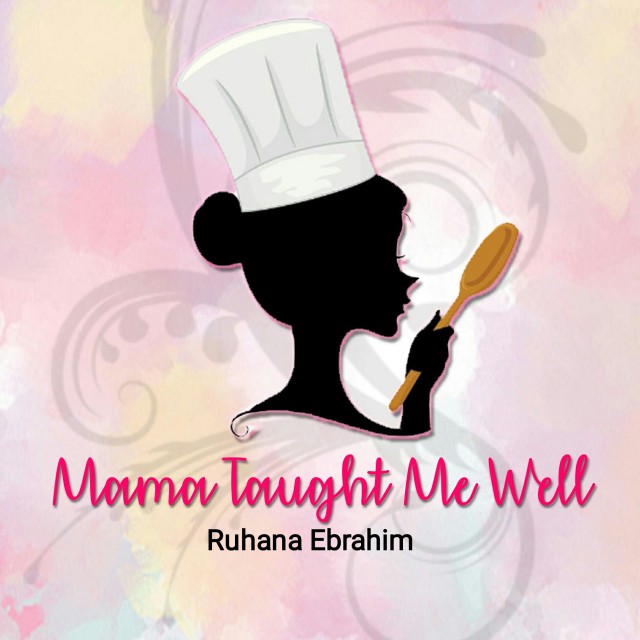 Ruhana Ebrahim
Grand Master
Interior Decorator.
Foodie!
Food styling.
Fusion Cooking.
Recreational baker.
Food Author of "Oh My Cupcakes!"
Mum and wife.
(Another 2 books on the way Insha Allah!)
---

South Africa
Joined 6 years ago
---
@mama_taught_me_well
COMMENTS
You May Also Like
Suggest Recipes