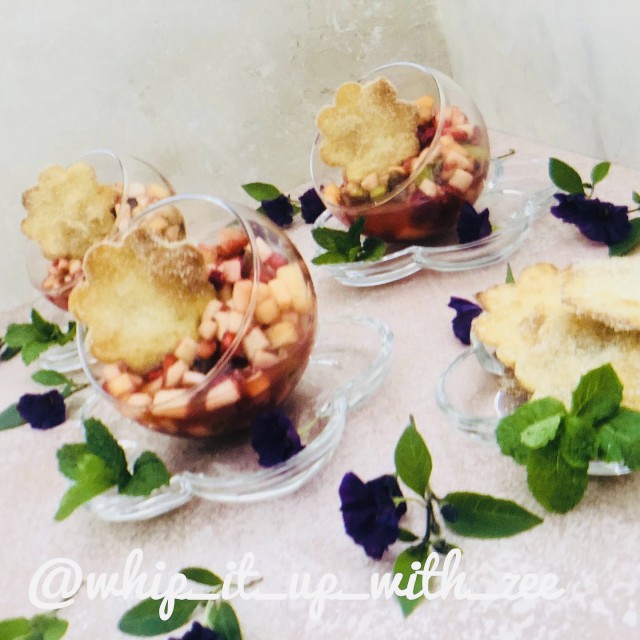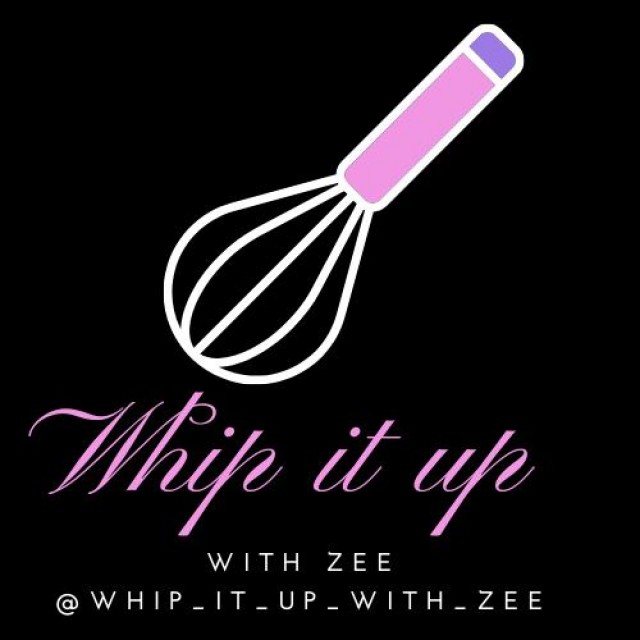 Zurayda
Master Chef
I'm just someone that loves to cook and bake.
I love to help anyone,who would like to learn to make tasty and easy meals
Anyone can cook or bake!!
So,always believe in yourself😘
---

South Africa
Joined 8 years ago
---
@whip_it_up_with_zee
CREDITS
📜and 📸 credit @whip_it_up_with_zee


INGREDIENTS
2 granny smith apples cubed1 lemon squeezed1 cup finely diced melon 1 cup kiwi cubed2 punnets strawberries 2 punnets raspberries4 tablespoons Jam or fruit compote I used pomegranate compoteYou can use strawberry or raspberry jam Sprinkle Pomegranate arils if you have any if not leave it out.
Cinnamon Sugar Tortilla Chips
I used store bought tortillas If you prefer to make them you can.Cut 6 Tortillas into triangles with a pizza cutter.Heat oil in a non stick pan enough to cover the tortilla chips.Fry the tortilla chips untill brown and crispy,on both sides and place on a plate.Do not place on roller paper to drain!!!You need the oil for the cinnamon sugar to stick to your tortilla chips.Mix together 1 cup castor sugar1 teaspoon fine cinnamon.
Toss the tortilla chips in the cinnamon sugar and set aside.
METHOD
Cube all the fuit finely this is the only hard part of this recipe.Sprinkle half of the lemon juice over the apples to stop it from turning brown.Mix the fruit together.Add ½ cup of sugar over toss well.Add in the jam or compote make sure its room temperature or it will not dissolve and stay lumpy.Taste to see if you need more sugar and adjust.Leave the fruit covered for half an hour in the fridge
When you ready to serve.Place fruit in small bowls and serve the cinnamon chips on the side.Scoop up your fruit with the tortilla chips Enjoy !!!
INFO & TIPS
Warning don't taste the Cinnamon Sugar Tortilla Chips you will eat the whole batch.🤣
POSTED ON
20 Mar 2020
WOULD YOU LIKE TO ?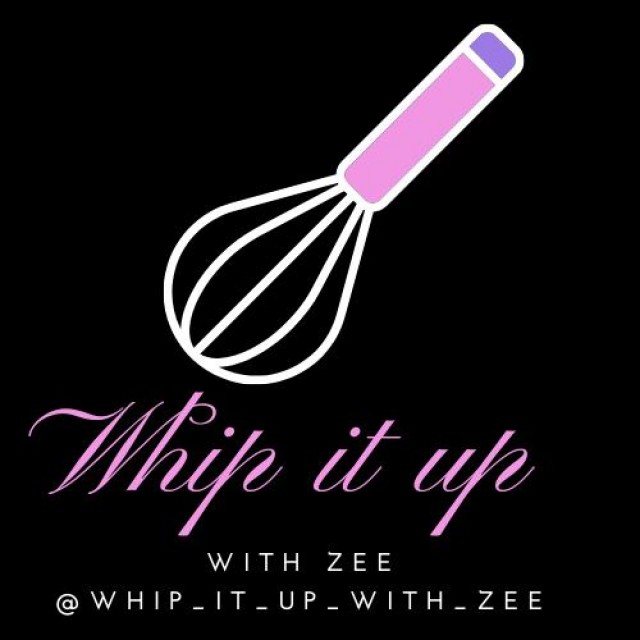 Zurayda
Master Chef
I'm just someone that loves to cook and bake.
I love to help anyone,who would like to learn to make tasty and easy meals
Anyone can cook or bake!!
So,always believe in yourself😘
---

South Africa
Joined 8 years ago
---
@whip_it_up_with_zee
COMMENTS
You May Also Like
Suggest Recipes