 7
favs
0
coms
747
views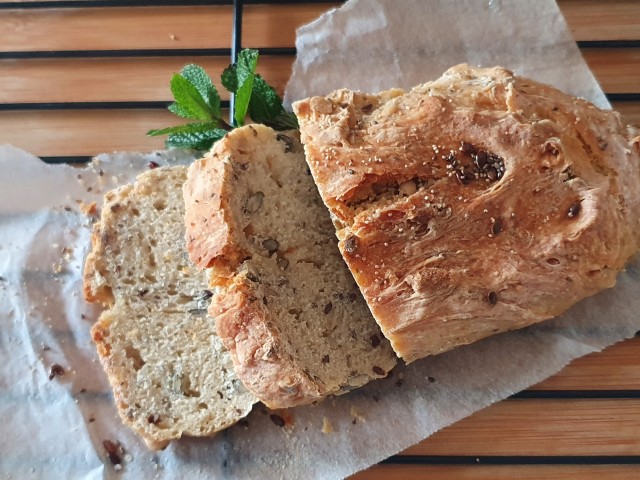 Notevenablogger
KITCHEN HAND
7
9.4K
40

I promise you there's a real recipe behind all that nonsense.
Goodluck sifting trough to find it tho 😅
Hey atleast the ingredients part is pretty...
CREDITS
INGREDIENTS
250 ml buttermilk1 kg self raising flour1 cup muesli1 cup All bran1 cup assorted nuts2 cups brown sugarteaspoon poppy seedsteaspoon tal (sesame seeds) 2 eggs250 g butter
METHOD
Beat butter then add sugar and flour alternately with milkDO NOT OVER BEAT!Sorry for shouting at you
Then fold in the rest Beat for 17 seconds Bake on 180 for 20 minutes
Place them in loaf pans then slice them after baking then freeze overnight and bake little till nicely done
INFO & TIPS
I used 8 half cups of flour (read that again before you put the wrong amount and then hold it to me)
Yes 8 half cups if you wanna be technical then call it 4 cups of flour . We get it you got 7 distinctions in Matric but did you get Imperial . Exactly!
1 cup #muesli which is dated jan 2018 so you give it to the birds .
1 cup all brans (it's all brans if you Indian all bran flakes if you human )
which you realise you don't actually have either so you send your driver (the husband yaar )
Quarter cup nuts of every nut you can think of as in fruit nuts not people you don't really like so you call them nuts .no .
Waste 10 mins googling if nuts are categorized under fruits
Throw all of the above into a huge bowl
4 xs quarter cups of brown sugar (again you being metrical! fine 1 cup sugar sheesh man )
Now you decide to read the recipe from the top and realise it has butter and wonder what you should do with the butterp] .
you decide to call master chef slash Baker and explain your predicament ... the professional explains that butter and sugar should be beaten as per normal when doing most baking and you cry out but mummy I already threw the flour and the sugar into the nuts mixturrrrrrreeeee (you for some odd reason make tajweed on the ر of mixture )
The professional just laughs and says nevermind it should be fine .. In your head this translates to
You've been #CHOPPED !! So you brood for 20 mins and by brood I mean scroll tru Instagram makikg nazr on all the rusk recipes of people that never flop .
Then you pick yourself up and dust yourself because you have #flour all over you not because you singing the #wakawaka
So you beat the hell out of the butter and you feel so much better now as if the butter has buttered you up ....until you realise you don't have buttermilk just plain old #cows milk , you about to add a dollop of butter to that milk because you did the math and butter +milk should = #buttermilk I mean it's simple math .
To be safe you ask the google who says don't be dom , add 1 tblsp vinegar or lemon juice to a cup of milk and you like yea I knew that .
you now dik So you read some durood for good measure and throw in the butter and milk and bind everything .
Then seperate them into loaf tins adding a sprinkle of choc chips on some and cranberries on the others and bake them for 2 days (YES ) first day you bake and then freeze overnight
Next day slice and then rebake a lil till done or burnt if you ask the husband to kindly watch em for a bit
.
Once cool store in an airtight container or your tummy whichever is safer .
.
And yea that's it
I know quite simple right .
.
.
Ps: it's an eggless recipe yay #vegan #notreally .
*not because the recipe didnt call for eggs but because I forgot to put the egg and it came out totally fine . .
#thisiswhyidontbake
.
.
I feel like I may have missed out a few ingredients in the recipe 🤔
Ahh well..

Tag me in your pics if u try it for a repost to my stories ..♡

Ok then
Nice knowing you
Bye
Check my Instagram page for a descriptive method
Under my highlights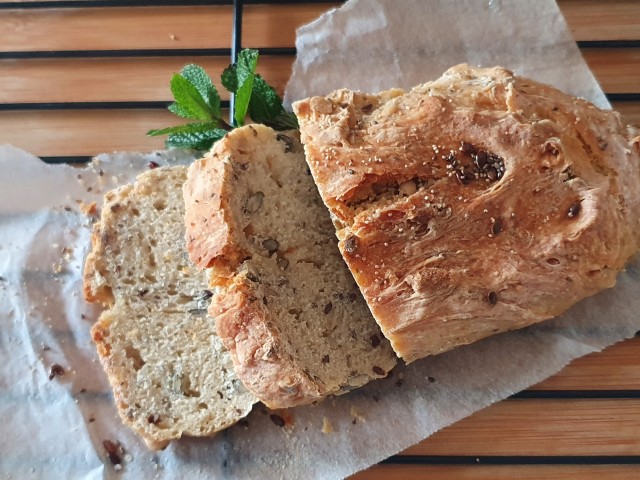 Notevenablogger
KITCHEN HAND
7
9.4K
40

I promise you there's a real recipe behind all that nonsense.
Goodluck sifting trough to find it tho 😅
Hey atleast the ingredients part is pretty...
Comments
Ordered By Newest
---
---
Suggest Recipes
You May Like