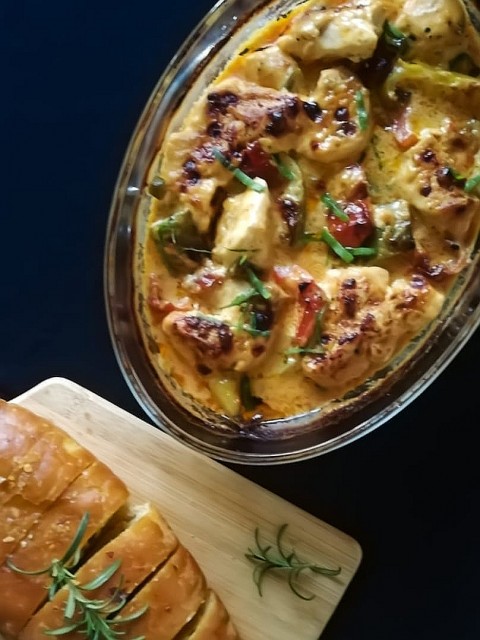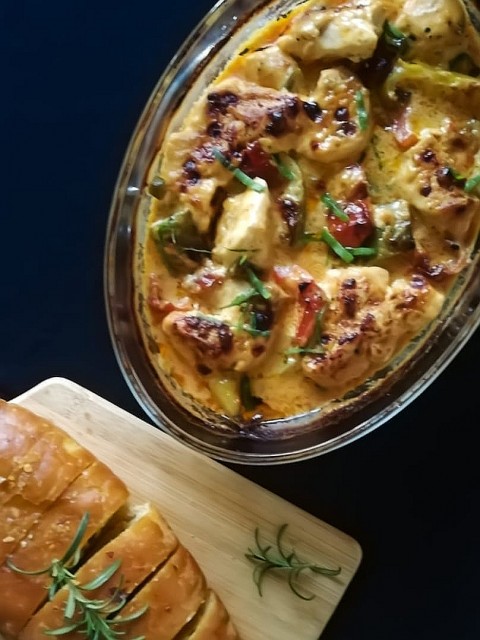 38
favs
2
coms
4.1K
views @saadia_b_
SOUS CHEF
34
46.7K
45

Creative expression, real, soul-full content...
CREDITS
Ruby Rustenburg (adapted from)


INGREDIENTS
@saadia_b_3 chicken fillets cut into larger cubesHalf a green pepper cut into larger chunksHalf a red pepper cut into larger chunksA few bottled pepperdew (about 4 - optional)A small piece of onion (a quarter cut into chunky pieces - optional)1 level tablespoon @ Lemonpepper spice1 level teaspoon paprika1 or 2 tablespoon creamy mayoCrushed Green chilli to taste250 ml fresh creamSalt to taste (about a level teaspoon or less fine salt, remember lemon pepper has salt)Sprinkling of spring onion or chivesA sprig of rosemary (optional - adds peppery, woody notes)
METHOD
Cube peppers, onion, and fillet into chunky bits. Toss all the ingredients together. Add the peppers, onion, and fillet. Place into an oven safe dish. Contents should fit the dish snugly. The marinade should cover the chicken completely. Allow to marinate. Preheat oven to 180C.Place dish into the oven, uncovered. Allow to bake for approx. 50min. Start checking after 35 minutes. It's ready when the sauce has reduced, thickened, and some butter from the cream has surfaced the top. . . Best served with a delicious bread to mop up the sauce. @saadia_b_
SOUS CHEF
34
46.7K
45

Creative expression, real, soul-full content...
Comments
Ordered By Newest
---
---
Suggest Recipes
You May Like
Easy Peasy Chicken Tray Bake is part of the
Chicken
recipes category