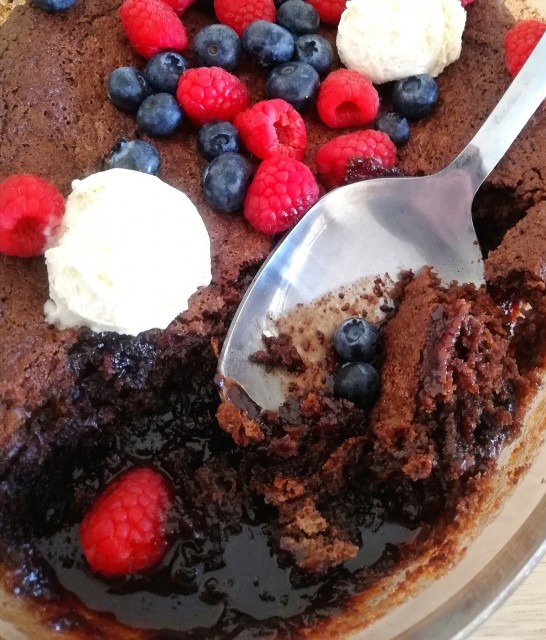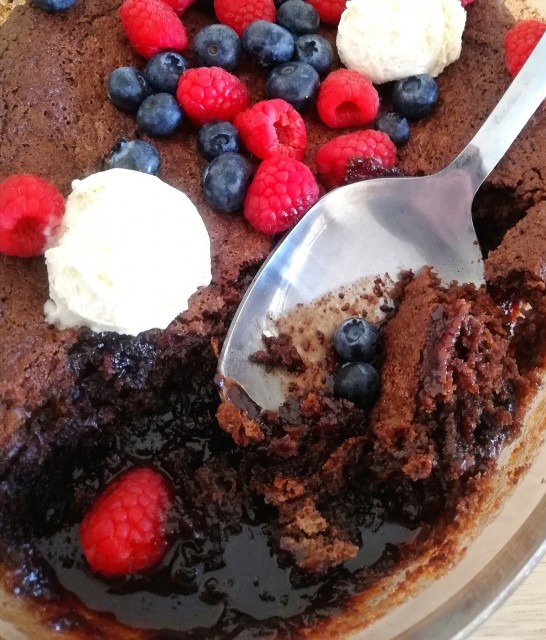 18
favs
5
coms
1.2K
views @saadia_b_
SOUS CHEF
38
58.5K
60

Creative expression, real, soul-full content...
Chocolate Self-saucing Pudding (with Dark Choc And Berries)
By @saadia_b_
- SOUS CHEF
CREDITS
INGREDIENTS
Choc pudding version 2 : Ingredients for batter : 50g butter or margarine 200ml castor sugar (roughly ¾ cup) (I use 2/3rd cup)1 egg
1 cup flour30ml cocoa (2tbl or ⅛ cup)Pinch of salt15ml baking powder (3 teaspoon)
200ml milkADD A HANDFUL OF CALLEBAUT CHOC OR SUITABLE CHOC (I USED LINDT DARK CHOC)
Syrup ingredients :1 cup brown sugar1 cup water 30 ml cocoa (2tbl or 1/8cup)Vanilla
METHOD
Method for batter : Cream butter and sugar.Add egg and beat well.Sieve dry ingredients.Alternating with milk and dry ingredients, fold into the butter mixture.Version 2 : add in a handful of choc pieces (Callebaut or a suitable good quality choc. I used 70% dark Choc) . Add batter to a suitable size oven-proof Pyrex. The batter should be flat and the Pyrex should be able to accommodate the rising pudding. (rises quite a lot) Pour the syrup onto the batter (before baking) and immediately place into a preheated oven at 180C. Bake at 180 for 25 to 30 minutes.
Syrup method :Boil for a little just until the sugar has dissolved. That's it. ❤️. Serve piping hot, with ice cream of your choice (vanilla etc), whipped fresh cream, or tinned dessert cream. . Optional : Add some raspberries/blueberries to balance the sweet and choc flavours 😍. @saadia_b_
SOUS CHEF
38
58.5K
60

Creative expression, real, soul-full content...
Comments
Ordered By Newest
---
---
Suggest Recipes
You May Like
Chocolate Self-saucing Pudding (with Dark Choc And Berries) is part of the
Desserts, Sweet Meats
recipes category