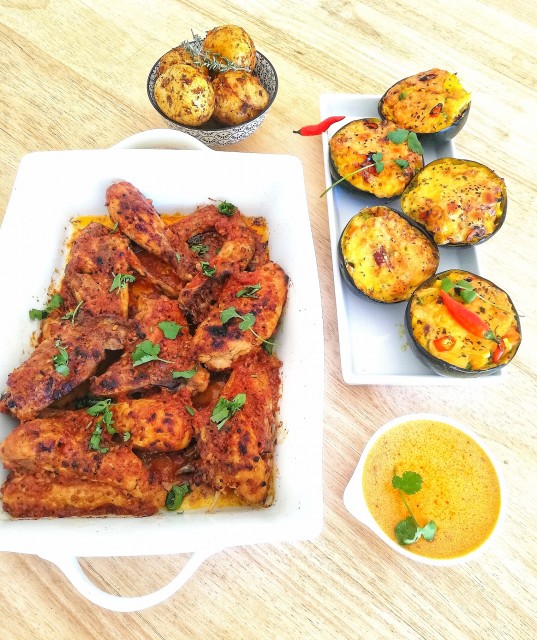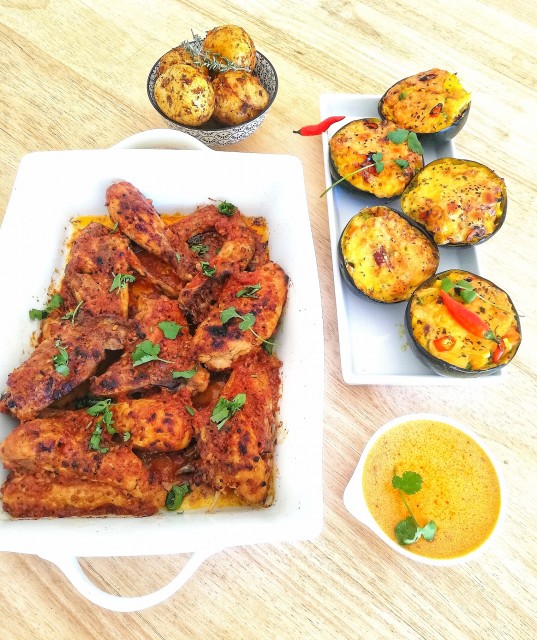 50
favs
7
coms
2.8K
views @saadia_b_
SOUS CHEF
38
58.6K
60

Creative expression, real, soul-full content...
Taka Taka Chicken Served With Mexican Style Stuffed Gemsquash And Cajun Flavored Roasted Baby Potatoes
By @saadia_b_
- SOUS CHEF
CREDITS
@saadia_b_
Recipe for taka Taka chicken @_culinaryinspiration_


INGREDIENTS
Taka taka chicken ingredients:For the marinade:1 teaspoon rough chilli flakes1 teaspoon chilli powder1 tablespoon garlic crushed1 tablespoon olive oil1 teaspoon lemon pepper4 tablespoon lemon juiceSalt to taste (approx 1 teaspoon rough salt)
For the sauce: 125g butter (I used a little less) 4 tablespoon tomato puree 4 tablespoon olive oil 1 teaspoon chilli flakes Bird eye chilli to taste 1 tablespoon garlic crushed Salt to taste (approx 1 level teaspoon fine salt) Lemon juice to taste (4tbl)
METHOD
Method for chicken, Gemsquash and potatoes :Butterfly or cut chicken to your preference. Marinate in the marinade for a few hours. Cook on stovetop in a little butter/oil until tender and cooked. (you may braai (bbq) or grill this in the oven or on an electric grill - I chose to cook) Pour sauce over, reserve a few tablespoon spoons. (at this stage you may grill in the oven for a few minutes (middle rack) until slightly charred. . For the sauce : Melt butter, garlic and red chilli until smokey. Add oil, puree and lemon juice. . For the reserved sauce, add approx ¼ cup of cream and serve on the side (adjust for seasoning). Enjoy 😍🌹. Mexican stuffed Gemsquash : Steam Gemsquash until done. Remove seeds. Dehusk the cooked flesh into a large bowl. Season well with salt and pepper. Prepare your veg : (4 cups of veg of choice) I used w roasted Mexican style corn mix. (corn, roasted red pepper and kidney beans, spiced in garlic, chilli, lemon 😍😍) Add 3 tablespoon butter, 2 tablespoon cream cheese (optional), ¼ cup cream (optional), 1 cup of grated cheese. Refill the shells. Top with cheese. Sprinkle herbs. Grill until melted or browned and blistered (😍). P. S. For the kids I prepared mixed veggies instead of the Mexican veg. (it is spicy for the kids) I made a half and half mix. 🌹❤️. Roasted baby potatoes :(also a super brilliant recipe for wedges.Boil potatoes in lightly salted water until tender. (a knife should glide effortlessly through) In a boil, add potatoes, drizzle generously with olive oil, sprinkle Cajun spice(or orange pepper), paprika and mixed herbs. Toss through. Grill until crisp. XoxoEnjoy. 🌹 @saadia_b_
SOUS CHEF
38
58.6K
60

Creative expression, real, soul-full content...
Comments
Ordered By Newest
---
---
Suggest Recipes
You May Like
Taka Taka Chicken Served With Mexican Style Stuffed Gemsquash And Cajun Flavored Roasted Baby Potatoes is part of the
Chicken
recipes category