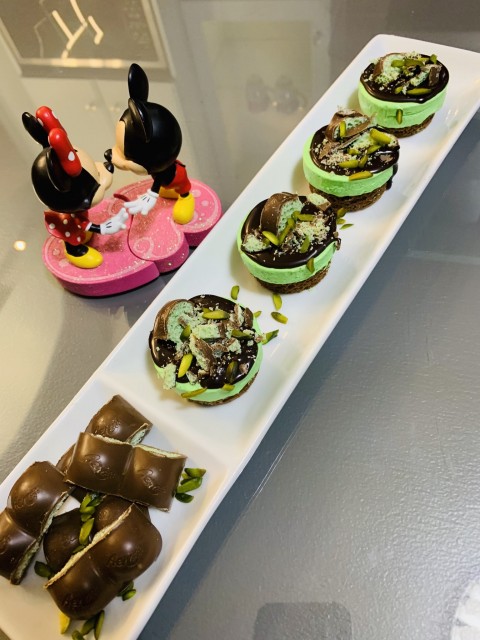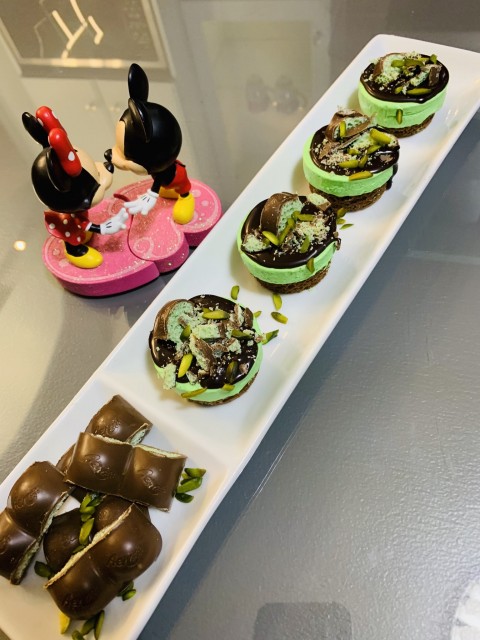 14
favs
0
coms
1K
views Chefq
STUDENT CHEF
1
1K
2

Qualified & accredited cake Artist , principal of Laeeque School Of Cake Arts - chocolatier...
Aero Mousse Mini Cakes
By Chefq
- STUDENT CHEF
INGREDIENTS
Base Cake 4 large eggs ½ cup brown sugar ½ cup castor sugar 1 cup flour ¼ cup klim powder 1tbs baking powder ¼ cup cocoa powder 1TBS coffee ½ cup boiling water ½ cup oil
METHOD
Beat eggs and sugar well till nice and creamy
Sift and Add the dry ingredients to egg mixture folding in with 2 teaspoon vanilla essence
Mix together in a jug ½ cup boiling water with 1tbs coffee then ½ cup oil now add to flour and egg mixture Lightly Cost the cheesecake pan with tin glide a pan grease to prevent the cake from sticking to pan Pour batter into cheesecake pan for the base of the dessert Bake for 15min check different ovens may vary in time .
Now prepare mousse Melt 300g white Belgium belcolade chocolate with 1 tin condense milk , 1 teaspoon vanilla essence Now crush 1 slab mint aero and add to condense few drops peppermint flavoring oil and mint green gel color
Now whip up 500ml meadowlands delight cream with 150g cream stabilizer and 1tbs icing sugar and fold into condense mixture
Place this into piping bag snip a hole and pipe over the choc cake base - using and angled pellet knife smooth the tops Place in freezer to chill
Make a ganach with 1 slab crushed mint aero and 200g belcolade choc place this in a bowl and pour over 100g boiled hot meadowlands cream and fold in till melted Remove the mousse from freezer and push them out from the base of cheesecake pan Now decorate with ganache and top with aero ! Yummy 😋 shoponline#laeequeonline#lockdowndiaries#lockdownbakes@laeequebakeware@laeequebakeware_recipes#mumof5kids#chefQ
INFO & TIPS
Use a nice dark cocoa powder and use flavoring oils this prevents the freshcream from weeping Chefq
STUDENT CHEF
1
1K
2

Qualified & accredited cake Artist , principal of Laeeque School Of Cake Arts - chocolatier...
Comments
Ordered By Newest
---
---
Suggest Recipes
You May Like
Aero Mousse Mini Cakes is part of the
Cakes
recipes category