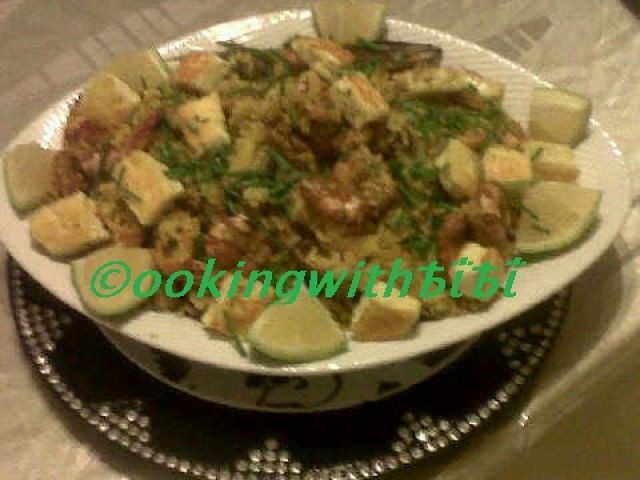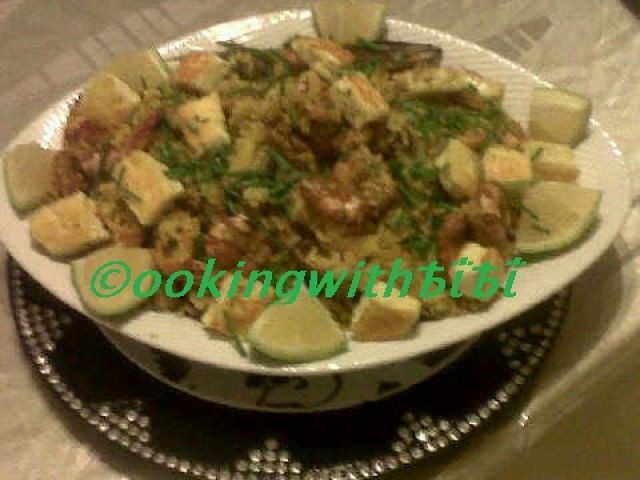 INGREDIENTS
Ingredients
500g fresh mussels
3 tablespoon finely chopped flat leaf parsley
3 tablespoon olive oil
1 red pepper, deseeded and sliced
200g cooked tiger prawns
200 g Calamari Rings
100g frozen corn
Large pinch saffron threads
3. garlic clove, peeled and finely chopped
1 medium onion, peeled and sliced
250g rice, rinsed
Salt to taste
2 tablespoon freshly ground black pepper
2 tablespoon Robertson Exotic Thai Spice
2 tablespoon fresh Red Masala (Red Chilli and Garlic
Paste)
Bay Leave
Sliced Green Chilli
100 ml Coconut Milk
Optional Extra (Fried Haloumi)

METHOD

Method
Scrub mussels and remove any beards. Discard any
mussels that have cracked shells or remain open
when tapped on the edge of the sink.
Put the mussels in a large saucepan and add 300ml
cold water and the chopped parsley.
Cover the pan with a tight fitting lid and bring
to the boil.
Cook for about 3 minutes until the mussels have
opened. Drain in a large colander, saving the
cooking liquid
When cool enough to handle, remove the mussels
from their shells, discarding any that haven't
opened.
Put the mussels in a bowl and set aside.
Heat 1 tablespoon of the oil in a large frying
pan and gently fry the pepper with the squid for
5 minutes, stirring regularly. (season to taste)
Put in the bowl with the mussels. Add the prawns
and corn,thai spice, bay leave and Red masala
Infuse saffron for 10 minutes in a small bowl
half filled with just-boiled water.
Heat the remaining oil in a large sauté pan or
paella pan and fry the garlic and onion for 5
minutes until softened and lightly browned.
Tip the rice into a jug and measure the volume.
Stir into the garlic and onion and cook for a few
seconds.
Pour the cooking liquid and saffron liquid into
the jug and add enough water to make twice as
much liquid volume as the rice.
Pour the liquid into the rice and bring to the
boil. Cook for about 20 minutes until the rice is
almost tender. Add coconut milk.
Stir in the reserved ingredients and cook in the
rice for a further 10 minutes, stirring
occasionally until piping hot and the coconut
milk has been absorbed by the rice
Season to taste and serve sprinkled with extra
chopped flat leaf parsley.


INFO / TIPS / CREDITS
* Just before serving you may fry haloumi blocks
and scatter over the rice*

Comments ordered by Newest
---