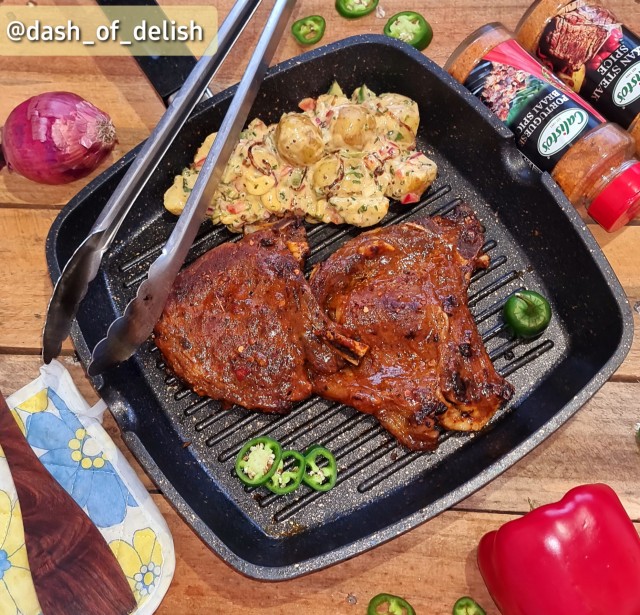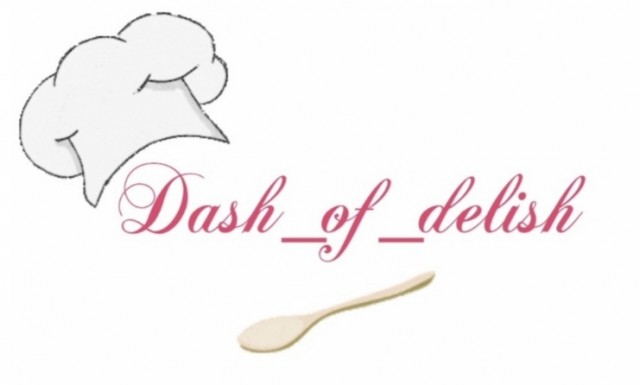 Dash _of_ Delish (aisha)
Kitchen Fundi
---

South Africa
Joined 2 years ago
---
@dash_of_delish
CREDITS
RECIPE
4 pieces of T-bone🥩 Steaks.Rub in:3 tablespoon Texan spice 2 tablespoon Portuguese spice1 tablespoon red chilli powder Crushed black pepper 2 tablespoon oil.Rub in the spices. Pack each piece in foil. Grill at 200°c for an hour, making sure the oven rack is not on top, but at the bottom. Check in between. Once done Remove from the foil.
Sauce:50gr salted butter or 2 tablespoon oil1tblsp Texan spice 1 tablespoon Portuguese spice 1 teaspoon red chillie powder 1 tablespoon steers peri peri sauce 1 tablespoon steers bbq sauce Half cup water .
In a pan bring the above to a boil. Heat a grill skillet or a griller. Grill Steaks on medium flame for 5 minutes while basting it with the prepared sauce. Serve immediately.
Braised summer potato 🥔 salad🥗Ingredients:Recipe credits:@dash_of_delish 5 to 6 baby potatoes boiled & cut in halves (unpeeled)Qtr red onion chopped Qtr green pepper chopped Qtr red pepper chopped Qtr cucumbers chopped Qtr cup cashew nuts
Sauce:2 tablespoon mayonnaise 1 tablespoon jalepino paste 1 tablespoon garlic sauce 1 tablespoon mustard sauce Chopped green coriander leaves. Mix all the above in a bowl. Including the vegetables. Braise:Qtr onion sliced 2 teaspoon mustard seeds 1 tablespoon oil
Braise the above until golden brown. Throw over salad. Serve with grilled Texan steak.Enjoy the twist 😜.
INFO & TIPS
Grilled Texan T-bone Steaks. Served with a Braised summer potato Salad.😋

T-bone Steak is one of the best steak cuts and includes a T-shaped bone with meat on each side.
T-bone is a quick and flavourful steak dinner with no marinating required!

Braised summer potato salad is a salad with a twist 😝.Boiled baby potatoes unpeeled & cut in halves , colours of the chopped peppers 🌶, onions & cucumbers🥒 gives it the summer look & ofcourse some nuts for the crunch. Immersed in a creamy & tangy sauce. Braised with onions & mustard seeds for some savoury flavour.😋
POSTED ON
18 Sep 2021
WOULD YOU LIKE TO ?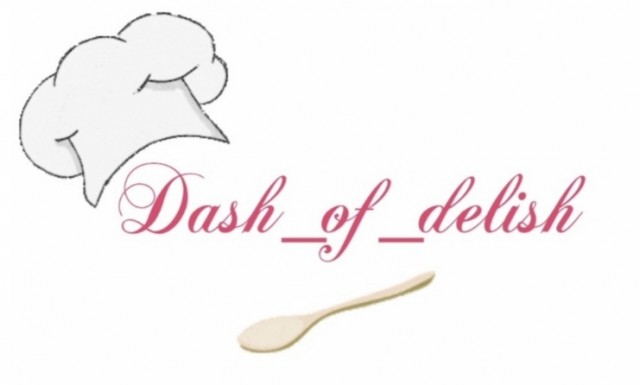 Dash _of_ Delish (aisha)
Kitchen Fundi
---

South Africa
Joined 2 years ago
---
@dash_of_delish
COMMENTS
You May Also Like
Suggest Recipes