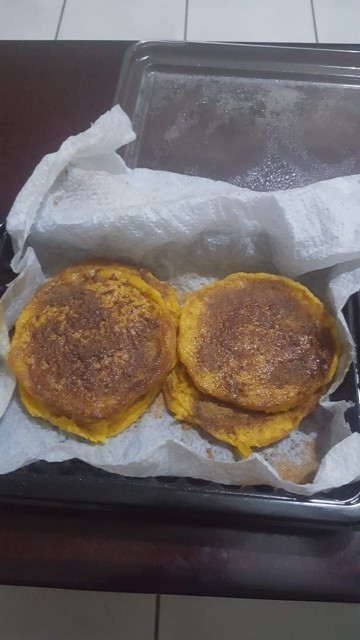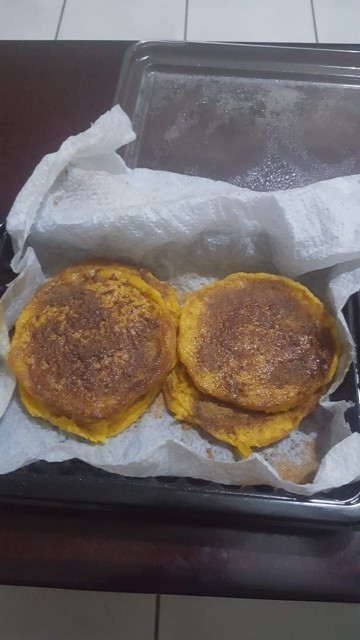 INGREDIENTS
By Carmen Niehaus Wednesday 08 February 2012


Makes 12 large fritters
Steaming time: 10 minutues
Preparation time: 10 minutues
Cooking time: 10 minutues

500 ml (2 c) peeled pumpkin, butternut or sweet potato pieces, steamed
125 ml (½ c) cake flour (add more if necessary)
5 ml (1 t) baking powder
pinch salt
1-2 eggs, whisked
oil for brushing the pan
80 ml sugar mixed with 15 ml (1 T) ground cinnamon for sprinkling on top

METHOD

Mash the pumpkin and mix with the remaining ingredients except the sugar mixture. Heat a pan and paint the base with a little oil.

Drop spoonfuls of the mixture into the pan. Cover and steam-fry until lightly browned underneath.

Turn the fritters and cover the pan.

Steam-fry until lightly browned on the other side.

Arrange on a platter and sprinkle with the sugar mixture.

Repeat with the remaining mixture.

INFO / TIPS / CREDITS
MAKE STEAMING EASY
Put a wire rack in the bottom of a pressure cooker.

Fill it with water to just below the rack.

Arrange the vegetables in containers, preferably perforated.

Cover without pressurising and steam until the vegetables are soft.

HEALTHIER PLAN
Pumpkin steamed instead of boiled so more nutrients are retained; fritters steam-fried in a tiny bit of oil instead of deep-fried; only a sprinkling of cinnamon sugar instead of drenching the fritters in syrup
Comments ordered by Newest
---