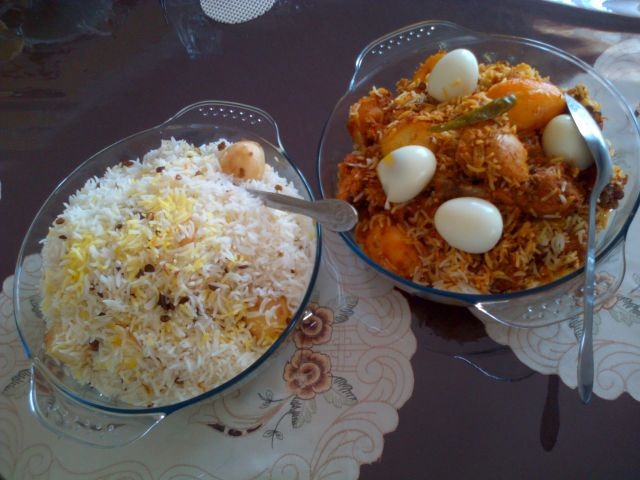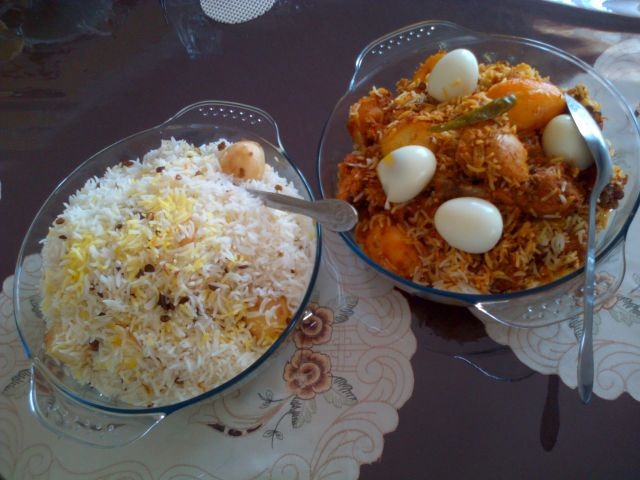 INGREDIENTS
2 chickens, disjoint,wash and drain
3 cups sour milk/ yoghurt or half half
good pinch saffron
2 and ½ teaspoon coarse salt,to taste
1 tablespoon tumeric
4 tablespoon dhana Jeeru (Cumin)
5-6 tablespoon chilli powder
6 tablespoon plain ginger garlic paste
1 tablespoon crushed garlic with green chillies
2-3 tablespoon tomato paste
5 green chillies
1 tablespoon whole Jeeru (Cumin)
4-5 pieces of cinnamon
3-4 cloves
5-7 whole black pepper
3 Elachi (cardomom) pods
juice of half a lemon
3-4 onions sliced and fried till crisp and golden
10 med potatoes, cut in halves and fried
1 cup Masoor (Back lentils)
5-6 cups basmati rice
salt for rice, 5-6 full teaspoon,to taste
METHOD
Firstly marinate chicken with all the spices,chillies
and yoghurt and a handful of the fried onions for 3-4
hours.
Boil rice in salted water and add 2 pieces
cinnamon and 1 elachie till half done, drain and keep
aside.
Boil Masoor (Back lentils) with a tablespoon of vinegar and pinch
bicarb.
When almost done add ½ teaspoon salt and ¼ teaspoon
turmeric.
Drain and set aside.
Cook marinated chicken in ¼ cup melted ghee (Clarified butter)
and the leftover oil of fried onion or add half cup oil.
Cook till water burns out and ghee (Clarified butter) and oil skims up
and remove from heat and allow to cool abit.
In a big pot, slice 2 red tomatoes thickly (about 4
slices from each tomato) and place around the centre
of pot to prevent scorching. drizzle alittle oil and ghee (Clarified butter),
not too much as there is quite abit in chicken.
Sprinkle a handful of onions, 2-3 handfuls of rice
and a handful of Masoor (Back lentils) over. then place your cooked
chicken. Place half of the fried potatoes in chicken
masala. Sprinkle onions,but leave alittle for rice on
top.
Add Masoor (Back lentils),reserving about 2Tblsps for
decorating rice.
Spread half of the rice over Masoor (Back lentils), now place
the remaining potatoes and sprinkle 1 tablespoon of the
Masoor (Back lentils) over rice.Spread rest of rice, lastly sprinkle
massor over and sprinkle alittle water and add
alittle saffron water over. Cover with foil and close lid
firmly by placing something heavy like a mortar on top.

Steam on medium heat for about 20-25 minutes turning
pot every 5-10 minutes,Do not open before 20 minutes is up.
Heat alittle ghee (Clarified butter) and throw in remaining fried
onions and quickly put it over rice or else the onions
will burn,remember its fried onions. Cover , and if it
needs to cook further it can be steamed in a preheated
oven of 150C for 15-20 minutes.

Serve with spiced yoghurt and salads and
poppadoms and achaars.
INFO / TIPS / CREDITS
You will notice that I don\'t add tomato to my
marinade, if you wish you can add 3-4 liquidised
medium tomatoes.
I prefer without, because I feel that the
chicken biryani tends to go sour very quick,
especially in summer.
Hope this recipe is a success for you! IT seems
really long but I have written it in full detail according to
how I make it.
I\'ve always been making my biryani this way.

My family loves it just as is!
You can halve the recipe.
The same recipe I use for mutton biryani, just
adjust yoghurt by adding 1 more cup for 2kg mutton
and 2 more Tblsp plain ginger garlic paste and 1
more Tblsp chilli powder.And add liquidised tomatoes
for mutton.
All adjustments according to taste.
Comments ordered by Newest
---