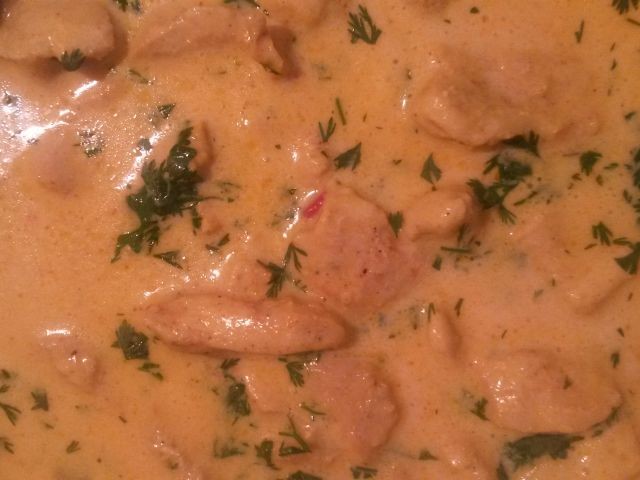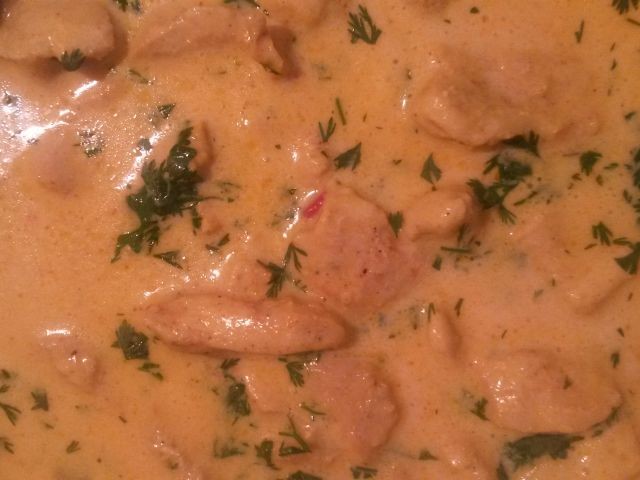 INGREDIENTS
400g chicken breast fillets, cut into strips
or small cubes
about 2 large tablespoons butter
¾ teaspoon turmeric
hearty pinch ground cayenne or small pinch
ground chilli
dash lemon juice
teaspoon or so sugar
salt to taste (bear in mind that it's served
with an unsalted starch)
cup milk
cup cream
around 1 heaped teaspoon cornflour (less
risky than cake flour in terms of the sauce
becoming lumpy)

METHOD
Method:
Mix half the milk with the cornflour and set
aside.
Heat butter in large pan till just bubbling,
but not hot enough to start browning.
Add chicken pieces, stirring to coat well
with butter.
Add turmeric, cayenne and lemon juice.
Once chicken is nearly cooked (only a minute
or so), add cream and remaining milk.
Turn heat lower and add the milk-cornflour
mix.
Stir till sauce thickens; if too thick, add
extra milk and cream.
Check chicken is cooked.
Add salt to taste, sugar if desired, and
remove from heat.
Serve immediately.

Comments ordered by Newest
---