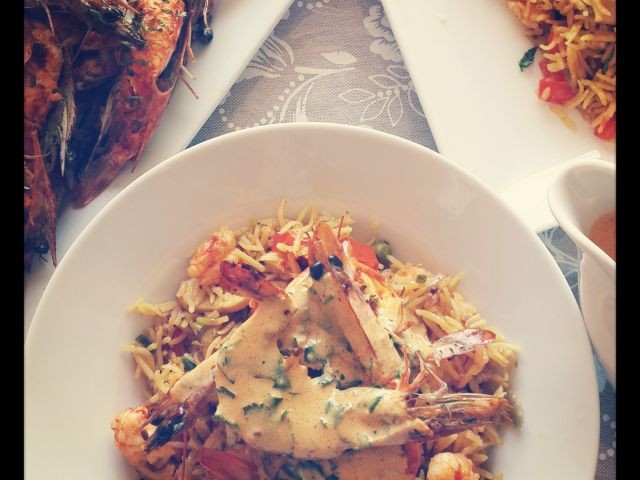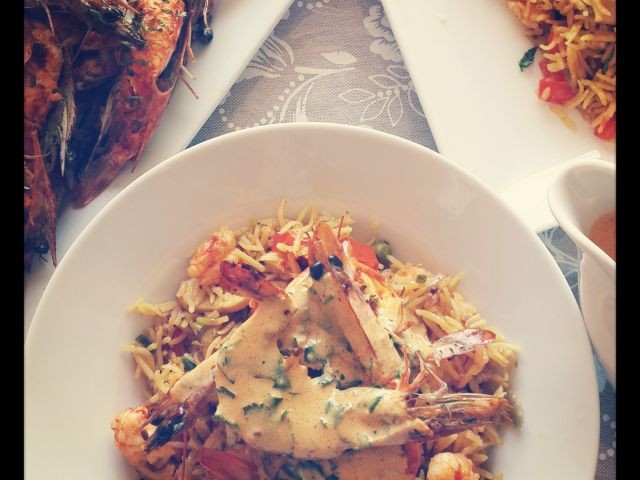 52
favs
0
coms
14.1K
views
Saucy Prawn And Savoury Rice
By Faz ♡
- SOUS CHEF
INGREDIENTS
Prawns:1 kg tiger prawns deveinedmarinate with :4 tablespoon oil ,2 tablespoon butter, 1 tablespoon garlic, 1 tablespoon exotic thai spice, 1 tablespoon red masala and juice of 1 lemon
Sauce:1 tablespoon butter100ml water2 tablespoon red masala2 tablespoon jeera powder2 teaspoon crushed red chillies1 cup plain yogurt1 cup fresh creamFinely chopped parsley
Savoury rice:+/- 500g prawns shelled, deveined and chopped1-2 cups parboiled basmati rice1 red onion sliceda few cloves of garlic sliveredpinch of jeera seeds, mustard seeds and Methi (Fenugreek) seeds1 tablespoon spice for rice½ tablespoon exotic thai spice½ cup frozen peas, chopped red and green peppers,mushrooms, cherry tomatoes
METHOD
Grill marinated tiger prawns and set aside.
For sauce blend water, masala, jeera, chillie and yoghurt. Heat butter and add this mixture and heat till it boils remove from heat taste salt and add fresh cream and combine heat up for little and remove and add parsely.
For rice:In a pan heat up some oil and quick fry prawns and remove, to the same pan sauté onions, garlic and seeds. Now add spices and veggies cook till just cooked and rice and prawns and allow to steam add a little water if need be.
INFO & TIPS
You could add the tiger prawns to the sauce once you've added the cream.
I used a little of the tiger prawn marinate to marinate the chopped prawn for the rice.
And chopped the veggies chunky.
Garnished the rice with fried onion spring onion salted silvered almonds and lemon wedges.
Comments
Ordered By Newest
---
---
Suggest Recipes
You May Like
Saucy Prawn And Savoury Rice is part of the
Seafood
recipes category