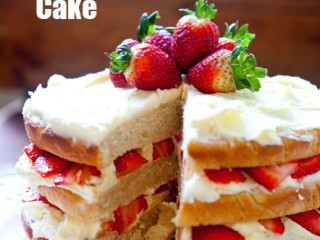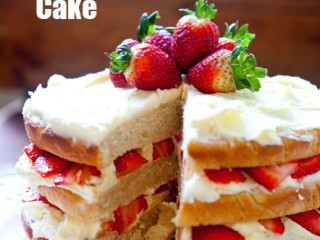 INGREDIENTS
Cake Ingredients:
350 ml plain yoghurt

350 ml sunflower oil

500 ml sugar

1050 ml self-raising flour

6 extra large eggs

2 teaspoon vanilla essence

4 teaspoon baking powder

Pinch of salt


Icing and Topping Ingredients:
250g margarine / butter, cut into small blocks

4 cups icing sugar

4 tablespoon milk

½ teaspoon vanilla essence

3 cups of strawberries, sliced plus a handful of whole strawberries.

METHOD
Empty all cake ingredients into a bowl and mix with a beater until everything is just blended nicely – be careful not to overmix.
Pour batter into 4 round cake tins that have been greased or lined with wax paper. Bake at 180 °C for 35-40 minutes or until a toothpick inserted into the centre comes out clean. Allow to cool in the pans and then take out.
To make icing – place the butter in a mixing bowl and beat until soft, now add the icing sugar, milk and vanilla essence. Beat until smooth. (remember that you   can just use whipped cream as a filling for each layer instead of the buttercream icing if you'd prefer).
Ice each layer and place sliced strawberries on top of the icing in each layer (I covered the top of each layer completely with strawberries)
Place uncut strawberries on the top layer or decorate as you wish.
INFO / TIPS / CREDITS
Comments ordered by Newest
---