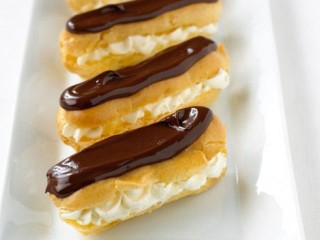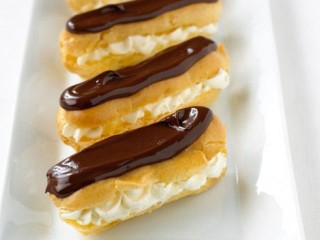 INGREDIENTS
125gr Margarine

1 cup water

1 cup flour

4 eggs

METHOD
•Heat the butter and water together until it boils.•Throw in cake flour all at once and mix together with a wooden spoon until it leaves the sidesof the pot and forms into a lump.•Remove the pot from heat. Then beat in eggs one at a time using a wooden spoon or an electric beater until velvety, shiny & smooth. •Put into a piping bag and pipe rounds or finger shapes onto a greased baking sheet or using a spoon, drop dough onto greased baking sheet or into greased muffin pans depending on size preferred. •Heat the oven to 200ºC. Put éclairs in. Reduce to 180ºC and bake for 30 minutes. • Remove from oven and leave to cool.• Cut the éclair shells with sweetened whipped cream or custard cream.
INFO / TIPS / CREDITS
You can make a small hole under the éclair nd pipe the cream in so u don't havto cut it..

Comments ordered by Newest
---