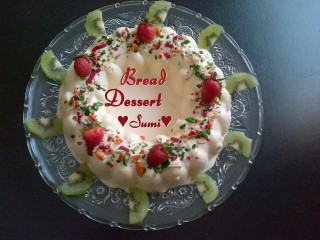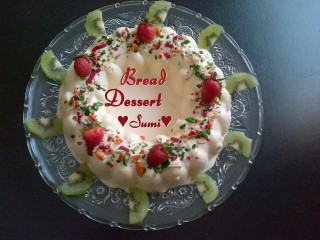 INGREDIENTS
1 litre milk
1 cup coconut
1 tin condense milk
2 and half teaspoon china grass. (agar agar (falooda powder) , ghaas powder)
3 slices Øf white bread. Crust remved ñ∂ soak °̩ή water squeezing all water out. Break it °̩ή the milk.


METHOD
Put ӑℓℓ the above °̩ή η̵ pot ñ∂ boil until thick. Must myk bubbles.

In η̵ seperate pot boil the following

Half cup water
Half cup sugar

Boil until sticky on medium heat while milk mixture is boiling on stove

Once milk mixture ι̥s̲ boiled remove 4m stove add syrup ñ∂ add 3 eggs whisk together.

Pour mixture °̩ή η̵ rectangular big pyrex. Allow 2 set den decorate ώĩ†̥ђ nestle cream ñ∂ almonds or pistas
Put °̩ή fridge. Can oso be decorated as desired ώĩ†̥ђ flake any fruits etc.


NB. Dessert cn oso be poured °̩ή η̵ big mould or small individual moulds or dessrt bowls.

»̶ S̶̲̥̅̊um̶̲̥̅̊​A̶̲̅Ýa̶̲̥̅̊н̣̇ «̶ إبراهيم.
Comments ordered by Newest
---