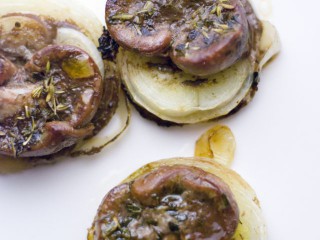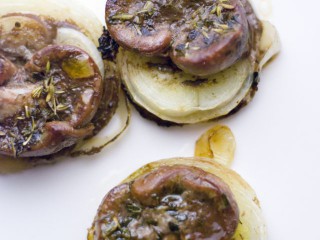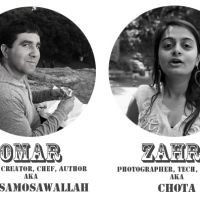 ---
Food blogging couple from Oakland, California. Make samosa, eat samosa, live samosa....
Joined 4 years ago
The Samosawallah's profile
INGREDIENTS
2 kidneys from 1 goat
¼ teaspoon chilli powder
¼ teaspoon smoked paprika
¼ teaspoon thyme
¼ teaspoon oregano
salt and pepper to taste
1 ½ tablespoon ghee (Clarified butter) (clarified butter...mmmm….)
¼ onion sliced (4 slices)
2 tablespoon vegetable oil
½ lemon, squeezed
METHOD
Thoroughly wash the kidneys and remove any excess animal parts. Slice them in half and remove the tough white matter in the middle as best you can.
Mix the oil, chilli powder, paprika, thyme, oregano, salt and pepper, and the lemon juice. Marinate the kidney's in this mix for a couple of hours in the fridge. Go play basketball.
Upon returning from the gym, wash hands and pour 1 tablespoon of ghee (Clarified butter) into baking dish, maybe a small pyrex dish. Also preheat oven to 400° F.
Place the sliced onions flat onto this dish, on top of the layer of yummy ghee (Clarified butter). On top of each slice of onion, place a kidney half, open side facing up.
Add a little more salt and pepper if desired, dab the remaining ghee (Clarified butter) on top of each li'l stack and place in oven for 15 minutes.
Comments ordered by Newest
---