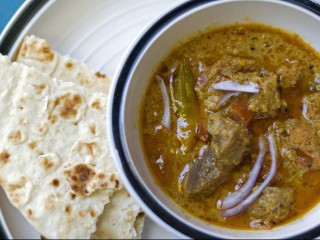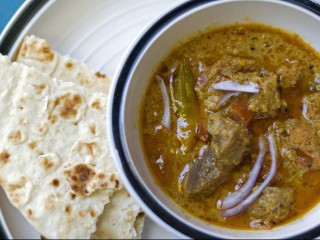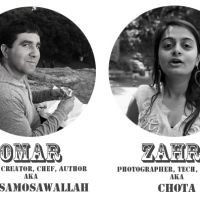 ---
Food blogging couple from Oakland, California. Make samosa, eat samosa, live samosa....
Joined 4 years ago
The Samosawallah's profile
INGREDIENTS
3 pounds of goat meat
1.5 cups of plain low fat yogurt
1.5 cups of water
1 package of Shan brand Achar gosht (meat) mix
2 tablespoon raw papaya
1.5 tablespoon garlic paste
1.5 tablespoon ginger paste
6 Thai chilli peppers, whole
2 Thai chilli peppers finely chopped
4 medium tomatoes diced
1 tablespoon oil
1 lemon, squeezed
METHOD
In a large sized bowl mix the yogurt, papaya, garlic paste, ginger paste, 75% of the Shan masala mix, and the chopped Thai chilli peppers. Add the meat to this marinade and mix well so all the pieces of meat are covered in the marinade. Cover this bowl and place in the fridge for a few hours, while you go to the gym and do pull-ups and deadlifts, maybe play some pick up basketball.
While the meat is marinating, and after you come back from the gym, place lengthwise slits in the 6 Thai chilli peppers. Empty out seeds.
In a small bowl, mix the remaining 25% of the Shan masala mix with lemon juice to make a paste.
Fill the chilli peppers with paste and leave to the side.
Heat up the oil in large sauce pan on medium/high heat.
Once heated, added the meat along with its the marinade. Stir frequently for 5 minutes.
Add the diced tomatoes and continue to cook on medium/high for 5 more minutes. Add water and bring to a boil.
Reduce heat to low, cover, and let simmer for 20 minutes. stirring occasionally.
Add the 6 Thai chilli peppers filled with paste. Continue cooking for 5 more minutes on medium heat. You'll know its done if the tomatoes have dissolved and oil separates from the liquid.
Eat with roti or naan or paratha. Or on top of a rice dish, such as pulao or biryani. Zahra likes to garnish with chopped onion and/or slivers of ginger.
Comments ordered by Newest
---