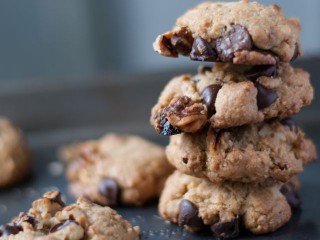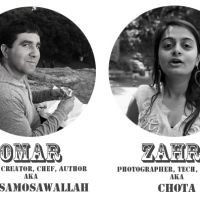 The Samosawallah
Kitchen Hand
Food blogging couple from Oakland, California. Make samosa, eat samosa, live samosa.
---

South Africa
Joined 7 years ago
INGREDIENTS
2 ½ cups rolled oats
2 cups all-purpose flour
1 teaspoon baking powder
1 teaspoon baking soda
¾ teaspoon salt
1 cup (2 sticks) unsalted butter, softened
1 cup sugar
1 cup brown sugar
2 eggs
1 teaspoon vanilla extract
8 ounces semisweet chocolate chips
4 ounces milk chocolate chips
1 ¼ cups chopped walnuts
METHOD
Preheat oven to 375°.
Use a high powered blender (I use a Nutribullet with a milling blade, but I'm sure any blender or food processor could work) and grind the rolled oats into coarse powder. Combine with flour, salt, baking soda, and baking powder. Whisk it real good.
Use a hand mixer to to whip together the softened butter, sugar, and brown sugar. Use a spatula or spoon to scrape down the sides. Add the eggs and vanilla extract and continue to mix together.
Slowly add the the flour mixture and continue blending so that all ingredient are mixed together. The batter will be thick and almost unwieldy. It's all good.
With your spatula or spoon, mix in the walnuts and chocolate chips.
Line your baking sheets with parchment paper. Use a spoon to make little balls with about 1-2 heaping tablespoons of batter. I flatten the balls a little bit after placing them on the baking sheet.
Bake for 10 minutes. Sharp. Don't overcook 'em. They'll appear undercooked when you pull them out of the oven. Let them cool on the sheet for 3-4 minutes before transferring these lovely little cookies to a wire cooling rack.
Enjoy with coffee, tea, milk, or hot cocoa. Share with your friends and family for maximum enjoyment.

INFO & TIPS
Find this recipe, and many others on our website, www.TheSamosawallah.com
This recipe can be found at:
http://www.thesamosawallah.com/the-nieman-marcus-cookie/
Sign up on our email list for updates whenever new recipes are posted!
WOULD YOU LIKE TO ?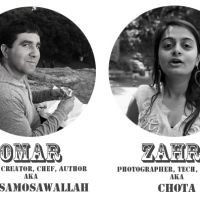 The Samosawallah
Kitchen Hand
Food blogging couple from Oakland, California. Make samosa, eat samosa, live samosa.
---

South Africa
Joined 7 years ago
COMMENTS
You May Also Like
Suggest Recipes