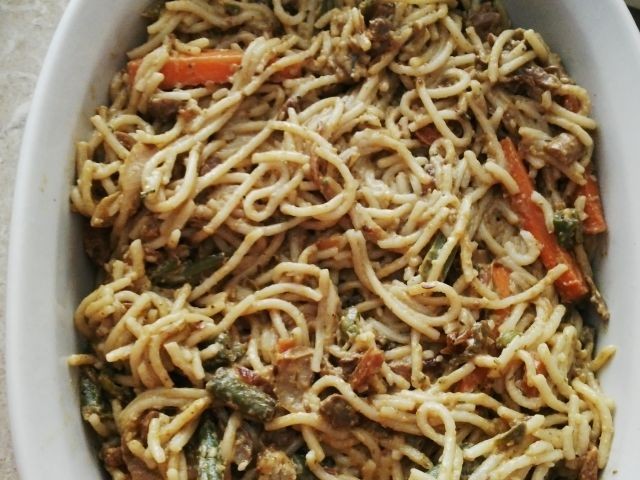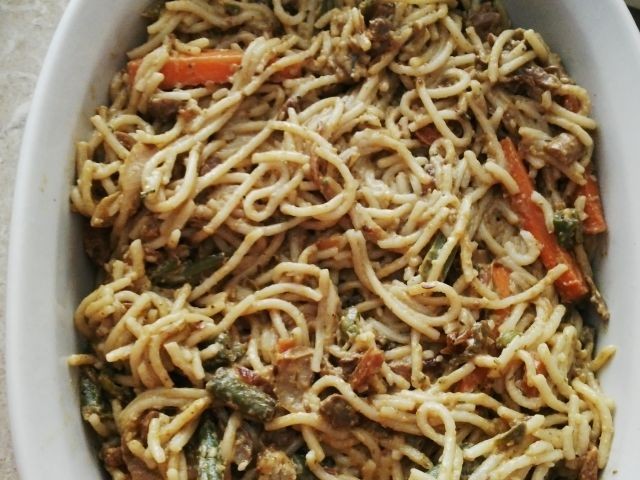 13
favs
1
coms
4.8K
views
Simple But Yummy Vegetarian Pasta
By Salma
- KITCHEN FUNDI
INGREDIENTS
Carrots ( cut into julienne)
Green pepper ( cut into strips)
Mushrooms (sliced)
White sauce made and kept aside
Onion ( sliced then cut in half)
Spaghetti boiled and kept aside
Soya sauce
Salt
Green chillies
Green beans ( optional)
Pepper to taste
Zeal
U cn add extra spice if u like sometimes just nice plain..

METHOD
Braise onion add peppers and carrots..add green chillies..dnt braise too loong til fully cooked mst b little crunchy still nice like tht.. then add mushrooms..add soya sauce and salt and pepper and Zeal and stirr fry on high then remove frm heat.then I add this to the boiled spaghetti and add the white sauce and mix..cn add extra seasoning if u like..yummy and nice fr kids coz nt strong..
INFO & TIPS
Can add corn too..sumtym instead of cutting up carrots n other veggies u buy ready cut up stirr fry the mccain ones are nice wth the pineapple inside..or mix veg too..n jst braise the same way jst goes faster thn...
Advertise Here
Want to see your advert here ? find out how to advertise with us.
Learn more.
Comments
Ordered By Newest
---
---
Suggest Recipes
You May Like
Simple But Yummy Vegetarian Pasta is part of the
Pastas, Pizzas
recipes category