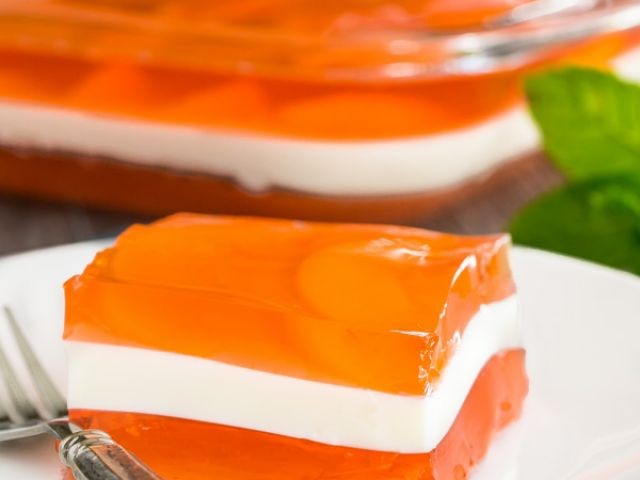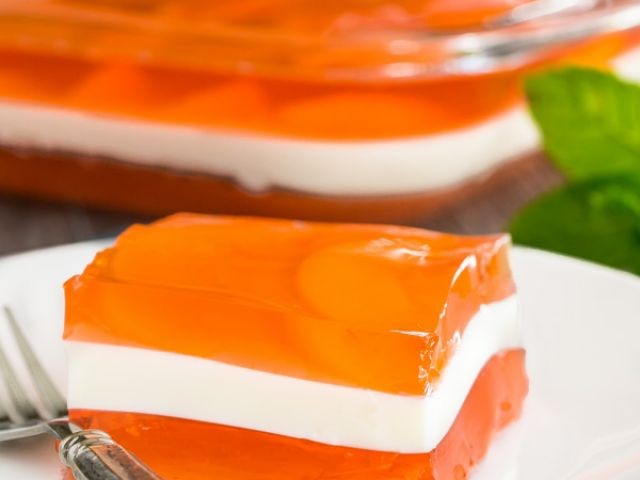 Peaches And Cream Layered Jelly
By Razia
- STUDENT CHEF
INGREDIENTS
2 pkts peach flavoured jelly ( made according to package instructions )
1 ½ tablespoon gelatine
1 cup boiling water + 1 cup cold water
1 ¼ cup condensed milk
1 ½ cup canned peaches ( cut into ½ thick slices )

You will need
Glass 9x3mm casserole dish
METHOD
Make the first peach flavored jellyaccording to package instructions (I used 2 cups ice water for it to cool faster), pour into a 9x13" glass pan and refrigerate until set (1-2 hrs).
After the first layer of jelly has been in the fridge at least 45 minutes, start on your cream layer: In a medium bowl, combine the gelatine with 1 cup boiling water and stir until fully dissolved. Stir in 1 cup cold water. Pour in condensed milk and stir with a spoon until blended. Let cream layer sit at room temp (no more than 45 minutues), then gently pour over your set jelly layer
Once cream layer is nearly set (this takes about 5 minutues in the fridge), top with slices of peaches. Note: If you want the peaches to stay put in a pattern and not float up, you want to place them on the cream layer before it is fully set. Place back in the fridge to fully set.
You want to start your last jelly layer right after the cream layer goes into the fridge. Make the second package of peach flavored jelly according to package instructions and let sit on the counter until it is room temperature (30 minutues - it's faster if you use ice water) then gently pour over the top of your set peaches and refrigerate until entire jelly is fully set. Note: Do not pour warm jelly over the cream layer or it will start to melt and become mottled.
Comments ordered by Newest
---