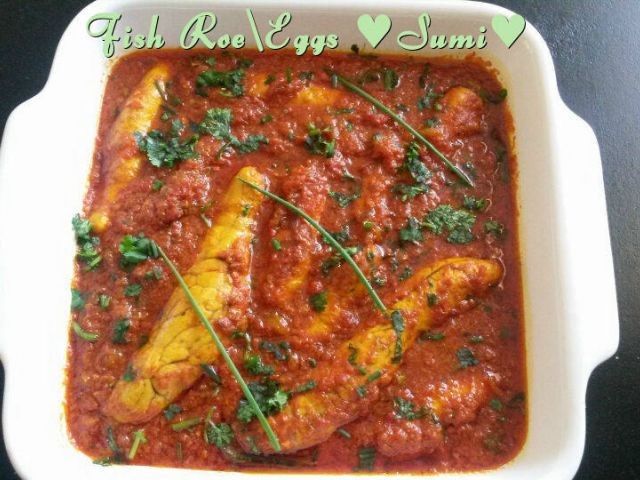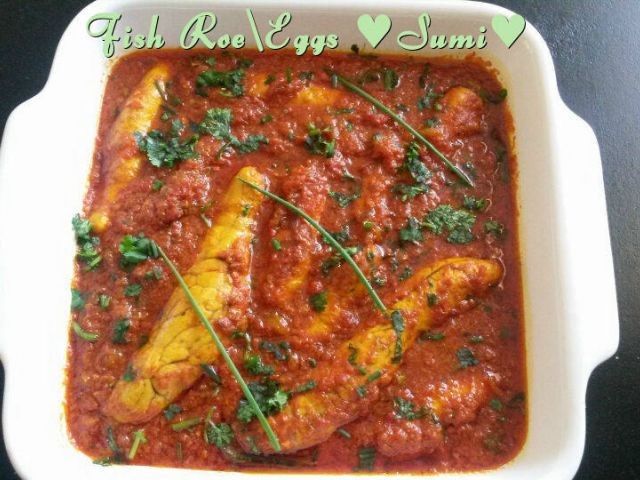 INGREDIENTS
500 g fish roe / eggs washed
Put in pot cover with water add 3tbls vinger and boil until fish eggs are stiff. Remove from stove & allow to cool. Once cooled of rub with fish masala ( u can use aminas wonder spice fish masala ) and fry in shallow oil for few minutes . keep aside

Chutney

1 onion grated
¼ cup ghee (Clarified butter)
1 teaspoon mix seeds ( ask @ any spice shop)
1 teaspoon chillie powder
½ teaspoon arad (Turmeric)
1 ½ teaspoon ginger garlic masala
2 teaspoon dana Jeeru (Cumin) powder
1 teaspoon crushed dhana
Salt 2 taste
Curry leaves
7 grated tomatoes
Green chillies


METHOD
Heat ghee (Clarified butter) in a pot. Add onions,mixed seeds & myk wagaar til golden brown.
Add garlic & ginger. Brasie for 1 minutues. Add the rest of the spices braise for few minutes. Add tomatoes & cook on medium heat. When oil has come up 2 the surface add the fried fish eggs, curry leaves and green chillies. Allow to cook on low heat. Garnish with fresh chopped dhania (coriander). Serve with roti or naan.


»̶ S̶̲̥̅̊um̶̲̥̅̊​A̶̲̅Ýa̶̲̥̅̊н̣̇ «̶ إبراهيم.
Comments ordered by Newest
---