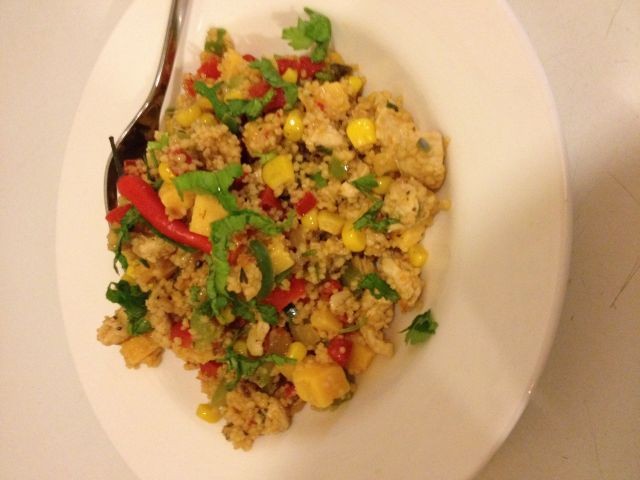 Zaitoon
Student Chef
I like to cook and like to invent my own take on a recipe
---

South Africa
Joined 9 years ago
INGREDIENTS
Approx 1 cup of Cous cous( the ready flavoured packets are good)
1 Veg stock cube
1 small chopped onion
Chopped chicken breast
Chopped green and red pepper
Sweetcorn
Chopped cheese
Fresh chopped corriander
Salt, zeero (cumin seeds), (optional green chilli paste).
Mixed herbs.
Lemon juice
METHOD
Make the cous cous using the veg stock cube and boiling water.
( Approx 1 cup of boiing water per one cup of cous cous)
Cover cous cous with cling film and leave.
In a wok, add 2 tablespoon of oil and saute the chopped onion, add
The finely Chopped garlic, zeero
Fry for 1 minutes.
Add the chopped chicken and add salt, green chilli, black pepper (to taste) and 1 teaspoon of dried mixed herbs.
Mix and cook for
5 minutes.
Add the chopped peppers and sweetcorn. (Amount is to preference).
Mix and cook for another 5 minutes.

Finally, the cous cous should have soaked up all the water. Use a fork to fluff it up and mix.
Mix the chicken mixture with the couscous. Turn heat off.
Finally add the cubed cheese and chopped fresh corriander.
Also, add some lemon juice or salt if need.


INFO & TIPS
This can be eaten hot or cold, but great warm when cheese is soft. Its great to fill in somasos or rolls.
Great as a side dish in a roast meal.
WOULD YOU LIKE TO ?

Zaitoon
Student Chef
I like to cook and like to invent my own take on a recipe
---

South Africa
Joined 9 years ago
COMMENTS
You May Also Like
Suggest Recipes