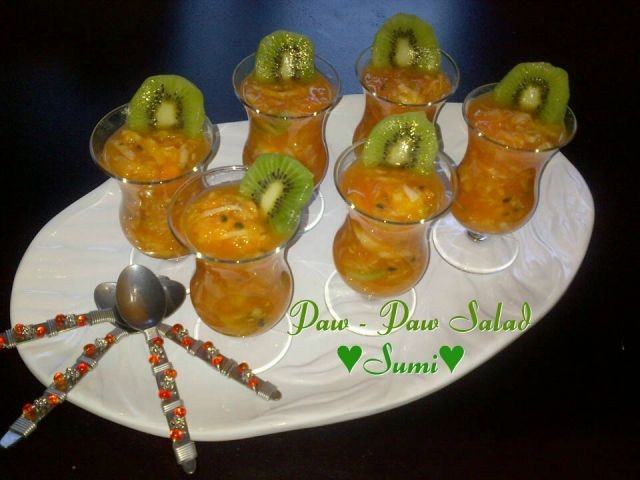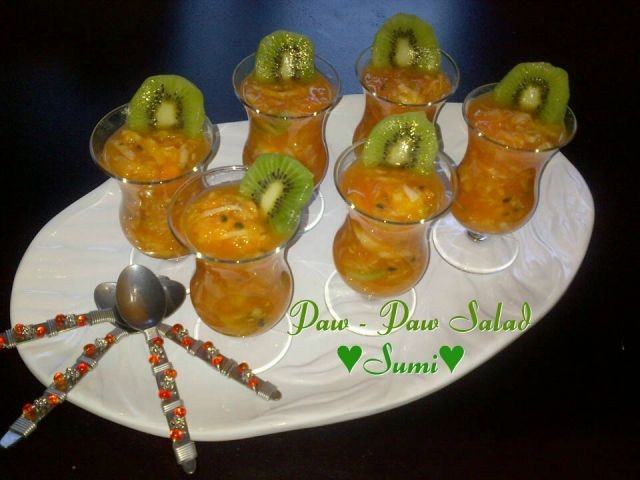 INGREDIENTS
Paw Paw salad
4 small paw paws
2 pears cubed
2 apples grated
3 kiwi fruits cut up
3 small bananas cut up
4 fresh granadilla pulp or 1 small tin
2 oranges peeled & skin removed. You will use the segments
Juice of 1 lemon
1 cup orange juice bought or freshly squeezed.
Half cup pineapple juice
Half tin peach slices ( optional)
Sugar according taste.


METHOD
Peel & cut up paw paws. Add to a big dish & mash it till fine. Add the rest of fruit & juices. Sweeten with sugar & allow to chill. Serve plain or with a dollop of vanilla ice cream or yoghurt of choice. Absolutely divine.

Any fruits of choice can be used.


»̶ S̶̲̥̅̊um̶̲̥̅̊​A̶̲̅Ýa̶̲̥̅̊н̣̇ «̶ إبراهيم.
Comments ordered by Newest
---