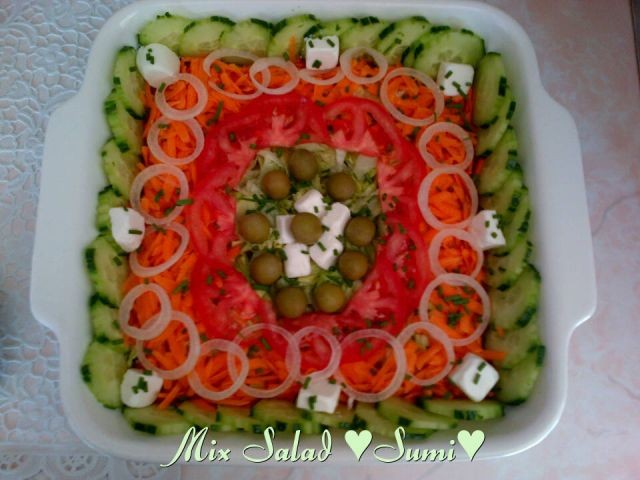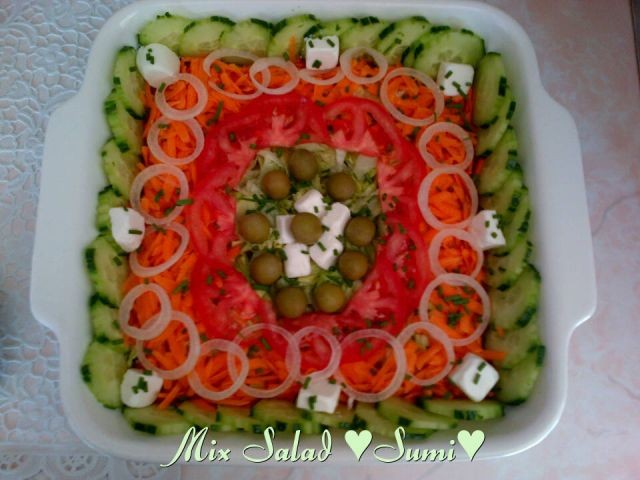 RECIPE
Veggies of choice.
Grated carrots
Sherred lettuce
Sliced cucumbers
Onion rings
Sliced green chillies
Green pepper slices
Cubed feta
Red,black or green olives
Sliced tomatoes ( or cocktail)
Cubed Pineapple ( optional)
Arrange as desired. Garnish with chopped spring onions or chieves


Dressing
½ cup mayo
1 tablespoon lemon juice
1 tablespoon brown sugar
½ teaspoon coarse crushed black pepper
1 teaspoon mixed herbs

Mix everything together. Serve with salad.

»̶ S̶̲̥̅̊um̶̲̥̅̊​A̶̲̅Ýa̶̲̥̅̊н̣̇ «̶ إبراهيم.
INFO & TIPS
This salad can be served with or with out dressing. Another option would be to jst sprinkle salt black pepper / vinegar
Comments ordered by Newest
---