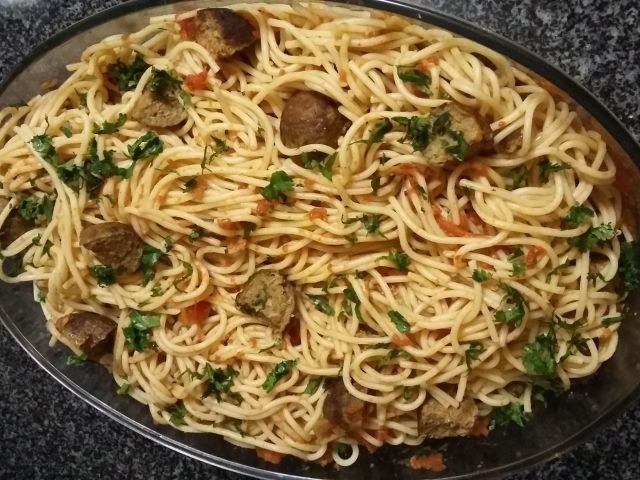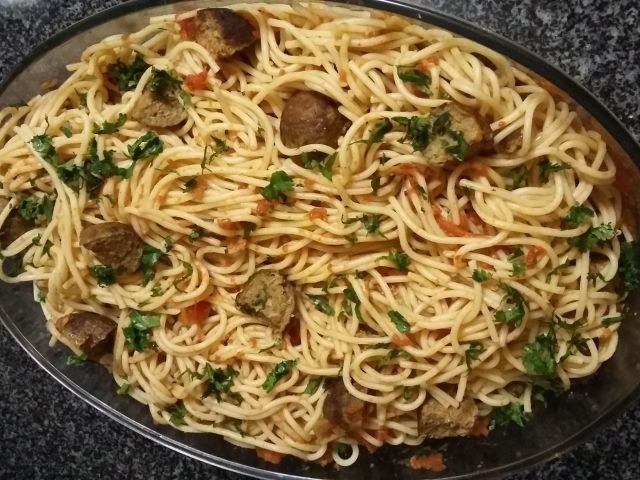 INGREDIENTS
1 kg mince (can use chicken or mutton)
1 onion, chopped
1 teaspoon crushed garlic
2 slices bread, crumbed in food processor
Green masala
2 teaspoon dhana jeeru (cumin)
1 teaspoon lemon pepper
½ teaspoon bbq spice
1 egg
Chopped dhania (coriander)
Salt

Boiled spaghetti

Tomato chutney :
1 onion, chopped
3 tomatoes, grated
Olive oil
1 teaspoon dhana jeeru (cumin)
Salt
1 teaspoon fine red chillies
¼ teaspoon arad (Turmeric)

METHOD
Mix all the ingredients for the kebabs together and form into balls using oiled hands. Lay on an oven tray greased with oil and bake on 180 degrees until done.
For the chutney, saute onion, then add tomatoes and spices and a little water and cook. Empty into a dish, add the kebabs and spaghetti and mix well. Sprinkle chopped dhania (coriander). Serve with roti.
INFO / TIPS / CREDITS
Make double the amount of kebabs and freeze half for next time.
Comments ordered by Newest
---