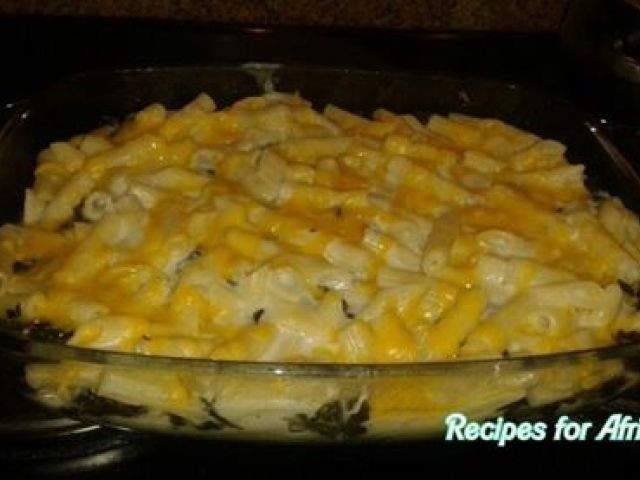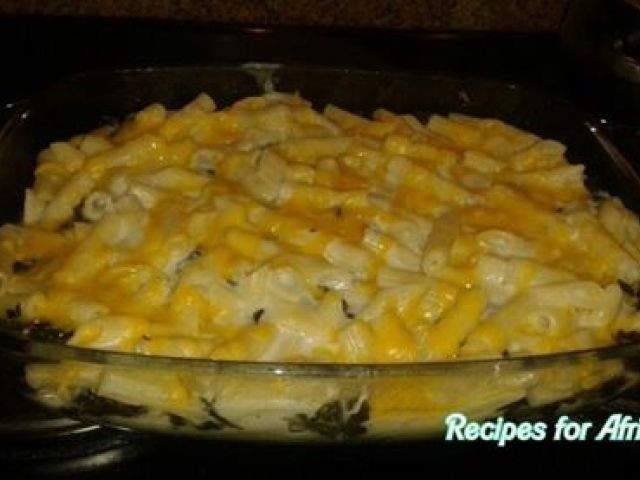 15
favs
0
coms
3,231
views
INGREDIENTS
400g Pasta ( Any Shape )
1 Tray 200g Mushroom ( Sliced )
2 Onions ( Diced roughly )
2 Bunches of Spinach ( cleaned, washed and finely chopped)
3 tablespoon Maragrine
2 tablespoon Oil
10 ml Thyme/ Mixed herns ( Roberstons )
1 packet Chicken-a-la king ( Royco )
500 ml Milk
1 teaspoon flour.
10 ml Aromat (a South African Spice)
5 ml salt
5 ml Black pepper
2 teaspoon crushed garlic
Little cheese to spread over dish


METHOD
METHOD
Steam spinach with salt, till cooked & empty into a covered dish.
Using the same pot add oil & butter.
Fry the onions, add garlic, pepper, Aromat (a South African Spice) and thyme/mixed herbs.
When slightly brown, add the mushroom and cook on slightly high heat to brown the mushroom ± 6 minutes
Once mushrooms are done , add the Spinach and mix well, Leave aside
In a separate pot boile the pasta with a abt 5 ml salt and 10 ml oil.
Make a paste with a little water and chicken-a-la-king mix + flour. Top up with milk
Once the water is almost finished & pasta is ready ( not overcooked) , add the milk mix to the pasta
Stir slowly , lower the stove temp to 1. The sauce will thicken , but will also need to be a dropping consistency
If too thick , add a little more milk and Stir.
Grease a casserole dish, pour half the Pasta into the dish, Add all the Spinach & Mushroom mix
Add the remaining Pasta, Top with cheese and sprinkle a bit of mixed herbs over.
Microwave for 2 minutes and ....it's ready to eat. Enjoy!


INFO & TIPS
Join and Share our RECIPIES FOR AFRICA GROUP PAGE.
https://www.facebook.com/groups/1645234332364979/
Comments
Ordered By Newest
---
---
Suggest Recipes
You May Like
"creamy Mushroom And Spinach Pasta " is part of the
Pastas, Pizzas
recipes category
TAGS
and
creamy
halaal
mushroom
padayachee
pamela
pasta
recipe
spinach