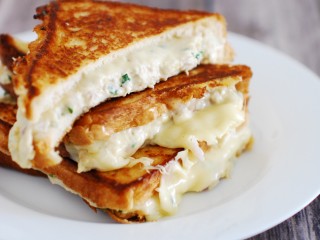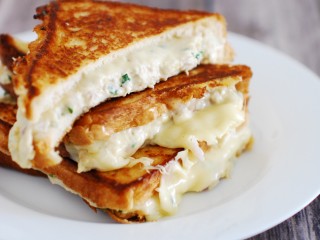 ---
Love trying new recipes. Tasting new foods and definitely a kitchen lover!!!...
Joined 2 years ago
Zoya Pathan's profile
INGREDIENTS
Bread - 6 slices
Boneless Chicken Breast - 1 piece, cut into cubes (170-200 gms approx)
Onion - 1 small - medium, chopped
Green chili - 2, chopped
Mayonnaise - 2-3 tablespoon
Chopped Parsley leaves - 1 tablespoon
Cheese slices - 3-6 slices
Salt
Tabasco / Hot sauce - 2 teaspoon
Butter - 2-3 tablespoon (for grilling)
METHOD
Cook the cleaned chicken with salt and pepper (refer notes).
Mince together the cooked chicken, onion and green chilli in a food processor or blender. Add mayonnaise, chopped parsley leaves and salt to this and mix well. Add Tabasco or Hot sauce. Make it in a paste form.
Butter one side of each slice of bread. Invert the bread slices and place cheese on both bread slices. Apply chicken mayo paste on one of the cheese slices and sandwich with the other bread and cheese slice.
Melt ½ - 1 tablespoon butter in a non stick pan and place the sandwich. Cook on low-medium flame for 2-3 minutues,s till the bottom side is browned, flip and cook for another 2-3 minutes or till the cheese is melted.
INFO & TIPS
I usually boil the chicken with salt, pepper, a clove of garlic, 1 chopped onion (small) and bayleaf. Once the chicken is cooked, separate the stock and pieces. I freeze the stock to use it later for soup or pasta.

You can prepare the filling one day in advance and keep in the fridge. If you want to serve it for small kids, you can substitute green chili with pepper powder.

Cheese slices - I used Gouda cheese, but you can use any cheese (which melts) of your preference like Swiss, Mozzarella, Cheddar etc; I was feeling a bit indulgent and used 2 cheese slices per sandwich, but you can make it with just one slice too.
---
Love trying new recipes. Tasting new foods and definitely a kitchen lover!!!...
Joined 2 years ago
Zoya Pathan's profile
Comments ordered by Newest
---