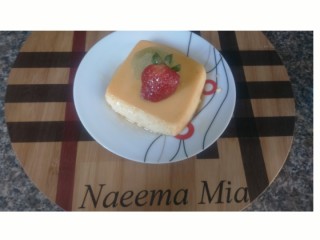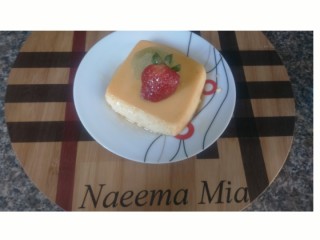 RECIPE
Caramel:
1 cup sugar
1 cup water

Combine water and sugars, stir until sugar dissolved. Bring to a boil and lower heat simmer until color turn Caramel.

Custard :
4 eggs separated
1 can condensed milk
3 cups milk
2 teaspoon coconut
1 teaspoon vanilla essence
Mini loaf tins.

Beat egg whites to soft peaks. Set aside
Beat yolks, condensed milk, milk coconut and essence.
Fold in egg whites.
Pour 2 teaspoon Caramel syrup in loaf tins, pour egg mixture over.
Place the loaf tins in a deep pan. Pour enough water to reach half way up the side of the tins.
Bake on 180 °c for 30 or until custard set.
Remove, immediately turn over to serving plate.
Decorate with fresh fruits. Refrigerate.



Comments ordered by Newest
---