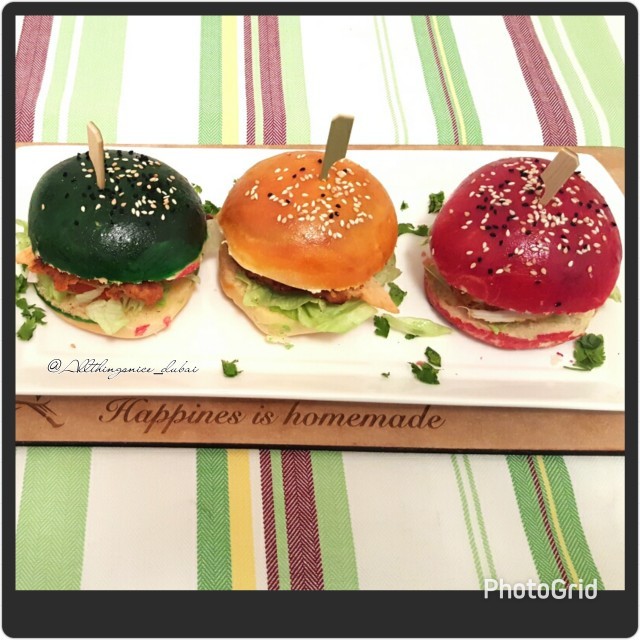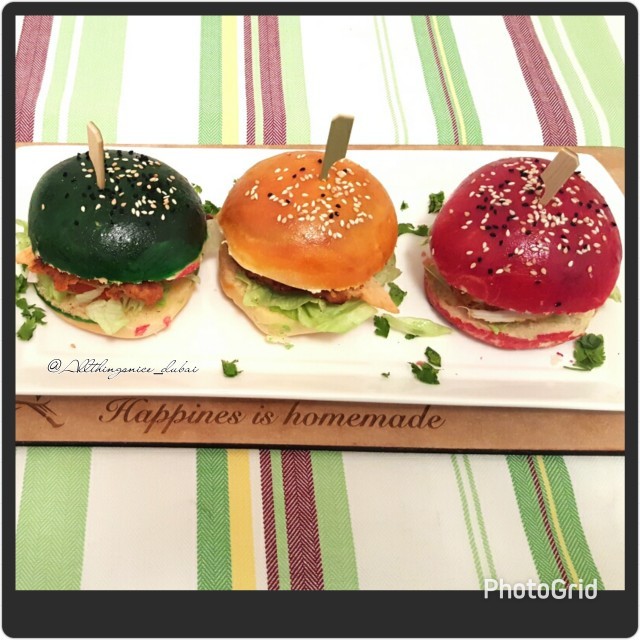 5
favs
0
coms
3.8K
views
INGREDIENTS
Tri Colour Burgers
@allthingsnice_dubai

Yeast Dough
@najeebahpatel

5 cups flour
½ cup oil (take out abit of the oil and add ghee (Clarified butter) to make ½ cup)
½ cup sugar
1 ½ teaspoon salt
2 teaspoon yeast
1 egg
¾ cup water (warm)
¾ cup milk (warm)
½ cup fresh cream
Mix the sugar,oil, eggs and cream
Then in a dish take the water & warm milk take more water if needed and add in the yeast and mix by hand then add into the above liquid dish and then add in the flour and knead for about 10-15ins by hand (and more liquid if needed)
Leave the dough too rise for a couple of hours then roll into shapes and leave to rise again till double the size


METHOD

For Colouring the buns

Take red, yellow & green liquid food colour in separate bowls. Coat the buns with each colour with a brush. Leave to dry then brush with beaten egg. Sprinkle with sesame & Nigella seeds. Bake till done.
Once baked brush ghee (Clarified butter) on the rolls while they still hot and cover with a tea towel

Mochachoes/ Zinger Fillets
@Allthingsnice_dubai
Slice fillets lengthwise in half
Rough salt
paprika
Mochachos spice
lemon juice
Lemon pepper
black pepper
Yoghurt
Marinate for a few hours

Then mix equal quantities of Southern fry coating (mild) / or (flour if not available)
Cornflake crumbs
Zinger spice

Dip fillets in beaten egg then in coating mixture & fry in med hot oil till done.

Assemble burgers with chicken, lettuce, tomato, sliced red onions & jalapeños. Top with mochachos whip & mochachos sauce.

Enjoy!
Comments
Ordered By Newest
---
---
Suggest Recipes
You May Like