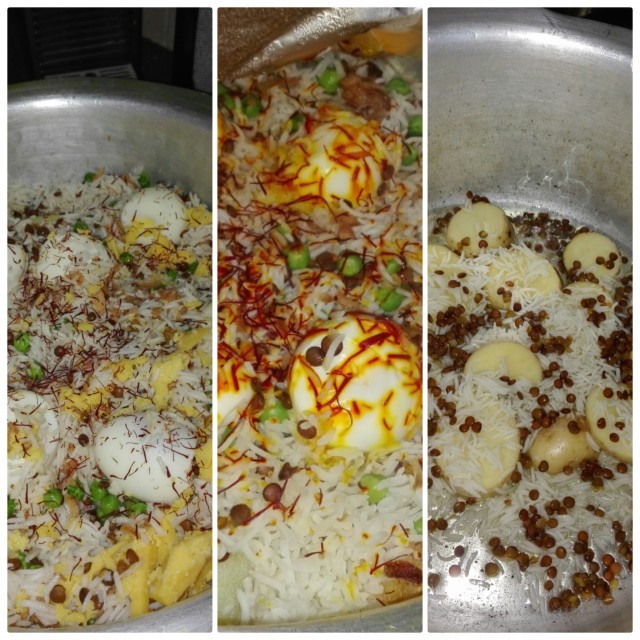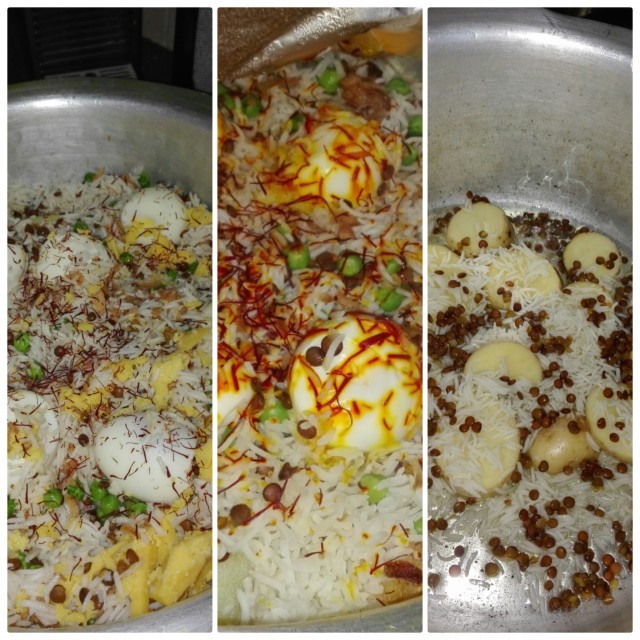 RECIPE
ONE CHICKEN WASHED AND CUT INTO 6 Pieces

Please let it be big pieces as in biryani meat tends to become very tender that's why allow big pieces

In a dish put CHICKEN crush ONE packet saffron on CHICKEN put ¼ cup boiling water over CHICKEN
2 tablespoon ginger .garlic masala
1 cup plain yoghurt
½ cup lemon juice
2 teaspoon salt
2 teaspoon fine dhana
2 teaspoon fine jeeru (cumin)
2 teaspoon red chilli powder
¼ cup lemon juice
ONE big spoon biryani mix

(Incl.bay leaves ..star aniseed..cinnamon sticks ..saumnf..whole jeeru (cumin). ...Elachi (cardomom)...whole black pepper....)

Allow to marinate
Meanwhile fry potatoes about 5CUT in halves
Onions till golden brown
Boil 10 eggs ..
Boil 3cups basmati rice till half done put in colander..
Masoor (Back lentils) is optional...Boil till done if using ....

In ONE big pot

CUT ONE potato WASHED with skin in slices to arrange around bottom of pot ....

Use oil of frying potatoes . 1spoon ghee (Clarified butter) ..


Put ONE big spoon of rice (Masoor (Back lentils)..if using )

Then arrange meat pieces (Masoor (Back lentils) if using put 3tbsp)
Potatoes arrange over meat
Then all rice
Then eggs
Then handful of Masoor (Back lentils) if using
1packet saffron for colour ...optional
1cup frozen peas
1cup clover ghee (Clarified butter)

2cups water

Put foil over
Allow to cook on high for 10mins then allow to simmer for 30mins on low heat till meat gets done ....

Serve with dhai salads and papar..
Comments ordered by Newest
---